Adam Peaty Books Ticket To Defence Of Olympic Crown in Tokyo With 57.3 For Ownership Of Entire All-Time Top 20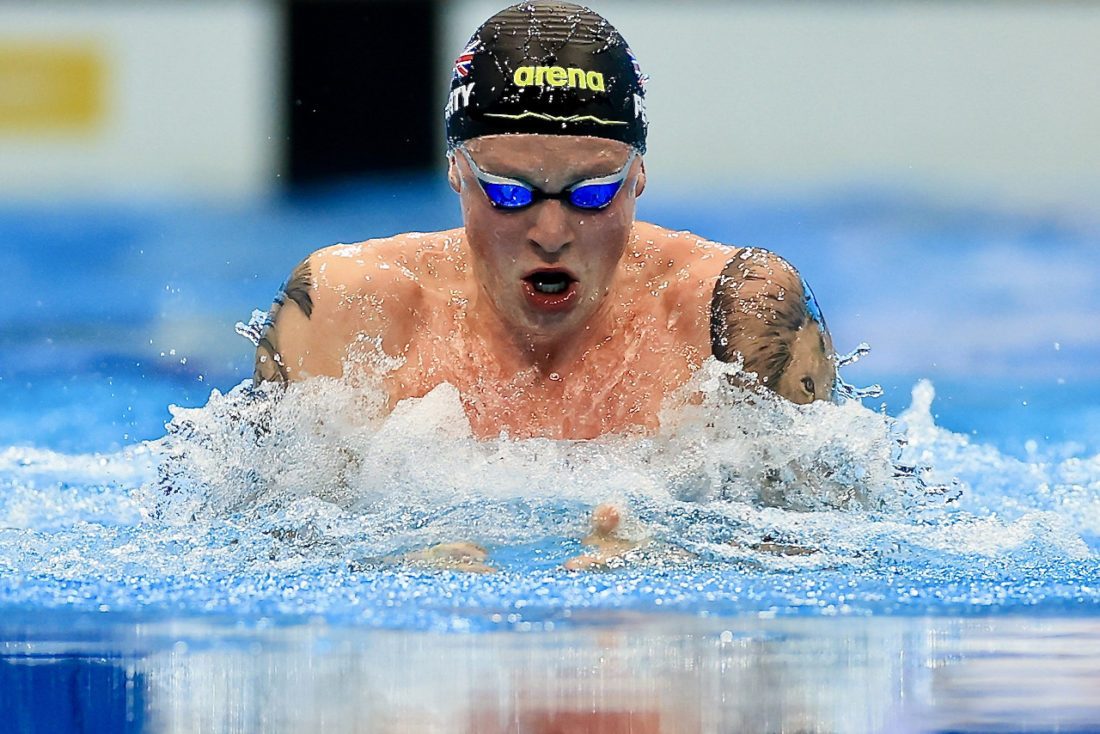 Adam Peaty mauled his domestic opponents beside him and the rest of the world remotely with as 57.39sec triumphant and confirmation of a ticket to the defence of his Olympic 100m breaststroke crown today in the very lane at the London Aquatics where he set his first World record and became the first man under 58sec back in 2015.
Second home on the first day of five at British Swimming Olympic selection Trials – and with a ticket to Tokyo in his hand, too – was Loughborough teammate James Wilby, on 58.76, while Ross Murdoch, on 59.51, now looks to the 200m for his passage to what would be, like Peaty, a second Games. For Wilby, Tokyo will mark his Games debut at 27.
Just 0.51sec shy of his astonishing 56.88 World record from 2019, Adam Peaty now owns the entire All-time Top 20 100m breaststroke performances, has 46 of the best 50 swims among Brits and 67 of the best 100, too.
Mind the Gap: as we noted yesterday, put the 1.41sec gap between Peaty's best and next best ever at the end of Ilya Shymanovich's 58.29 and in those next 1.41sec come 62 other men. It works out something like this, too: he's 2.5% ahead of next best, while the 2.5% behind Usain Bolt at his best on the track over 100m includes eight men.
Livestream / Live results / Start Lists / Selection Policy
Out in 26.69, 0.06sec shy of his world-record pace from 2019, Adam Peaty had won the race – but that wasn't the point this day. They say that two of the most stressful things in life are the birth of a child and a house move. Peaty, 26, experienced the former last September when he and partner Eiri Munro celebrated the birth of George Peaty, and the latter, a shift of home, in the past few weeks.
Coached by Mel Marshall at Loughborough, Peaty is made of tough stuff, of course but even he has noticed the strain of late. What counts and what he advocated to all in these challenge days of a Covid-19 pandemic is "a positive outlook and mindset".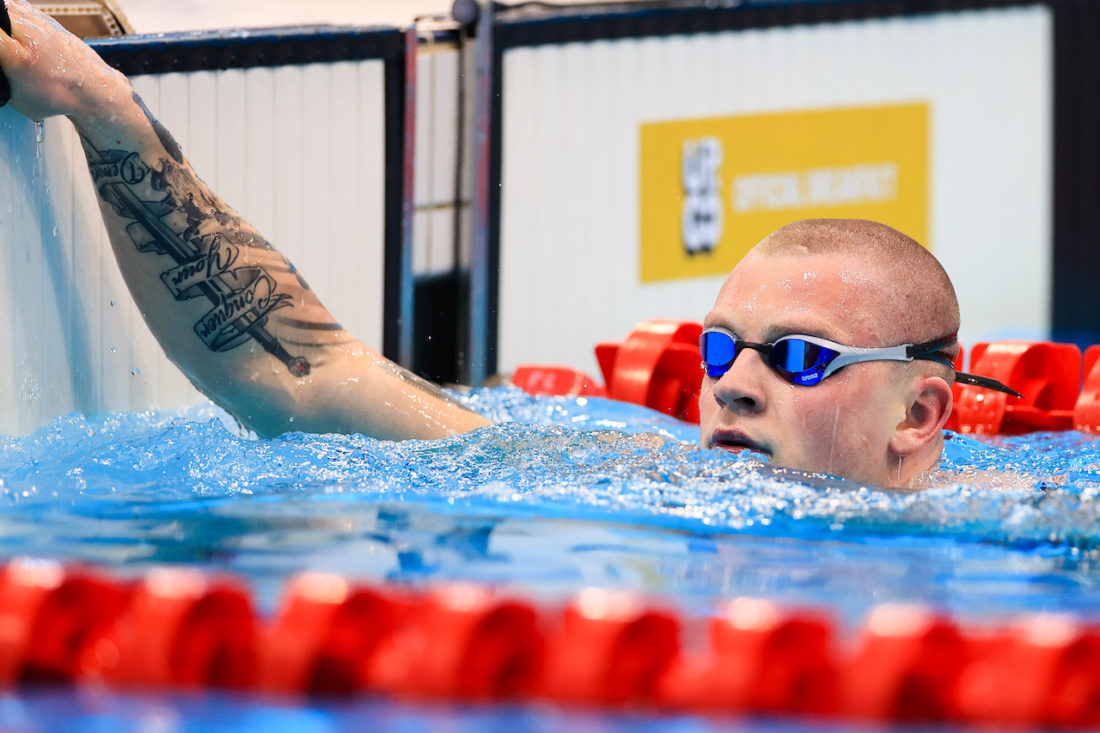 Speaking to fellow Rio 2016 and former GBR teammate Jazz Carlin, conducting poolside interviews in the trials safety bubble, Peaty said he was in a much better place than he'd expected to be at this time of the season and given all that's been going on:
"I mean, I've had a lot going on, having a kid (baby George was born last September) and moving house in the pst months and weeks. I was just happy to come here, to be honest. That completes the all-time top 20. For me the execution was perfect, I'm way ahead of where I should be right now, so it gives me great confidence going into the summer, into the Olympics and have Great Britain at my back and show the world we're a force to be reckoned with."

Adam Peaty – Photo by Georgie Kerr, courtesy of British Swimming
He added later that he'd been "ripping out boilers and clearing rat shit out of the utility room" of the family's new home only a eek before trials. He' hadn't envisaged doing a low 57 but after a 57.70 in heats "it was a case of making a few tweaks and focussing to get into the low 57s".
How did George and fatherhood rate on the scale of motivators?
"Like nothing else; it's absolutely unreal. Every day he gets older, every day I get more motivated. He's learning to crawl and getting teeth now and growing hair … that's another achievement! It's great being a father and I want to be an inspiration to him as he grows up."

Adam Peaty
The 26-year-old, who is coached by Mel Marshall at the National Centre Loughborough, became a first-parent when he and partner Eiri Munro welcomed son George in September 2020.
Covid restrictions are currently being eased in Britain, which doesn't make trials and the bubble any easier, outside the world opening up, the cafes and restaurants serving customers in plazas and squares in the lightening spring weather.
Peaty felt no self-pity. He acknowledged that "it's been tough .. and at times I've found myself in a challenging place, mentally. Athletes feel the strain too." But his thoughts were mainly with those who were less fortunate, including struggling swimming clubs, the birthing pools from whence the likes of Peaty come from.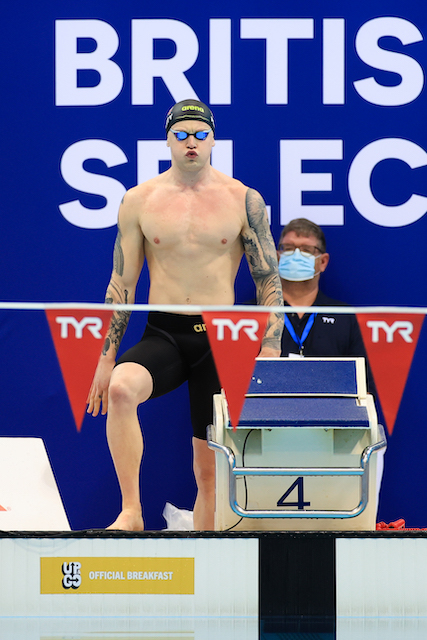 Peaty's first swimming home was Dove Valley, a club in Uttoxeter, Staffordshire. He said:
"It's been very tough, not to take anything from these athletes who've been out of the pool, but it's been extremely tough – what got me through it was that little glimpse of light at the end of the tunnel. If you can keep your eyes focused on that and then power through every single day waking up with a positive mindset, you prove you can do anything.

The next generation of athletes, if you're watching at home, you're going to be the most important generation to see where the world can go after Covid in the next four, six, eight years, when the veterans are all retired!"

Adam Peaty – Photo by Georgie Kerr, courtesy of British Swimming
The question is: where will Adam Peaty get to before he's considered a "veteran"?
Here are the pioneering moments – World Records – among those all-time Top 20 efforts after Peaty's 2015 voyage into what remain uncharted waters as far as any other swimmer goes:
Adam Peaty & His 100m Breaststroke Bull Run
| | | | | |
| --- | --- | --- | --- | --- |
| 58.46 | Cameron van der Burgh | RSA | July 29, 2012 | London, UK |
| 57.92 | Adam Peaty | GBR | April 17, 2015 | London, UK |
| 57.55 | Adam Peaty | GBR | August 6, 2016 | Rio de Janeiro, Brazil |
| 57.13 | Adam Peaty | GBR | August 7, 2016 | Rio de Janeiro, Brazil |
| 57.10 | Adam Peaty | GBR | August 4, 2018 | Glasgow, United Kingdom |
| 56.88 | Adam Peaty | GBR | July 21, 2019 | Gwangju, South Korea |
Peaty was the sixth British man under the minute when he clocked 59.92 for his last British youth crown back in 2013. The moment went largely unnoticed: Peaty had missed the Britain team for World Championships earlier in the season and the big event in Barcelona unfolded with Murdoch making the semis and Michael Jamieson, a year after 200m silver at the London 2012 Olympics as Britain's only male medallist in the home-Games pool, confined to a heats swim only.
What that 59.92 showed was the discipline and work coach Mel Marshall was asking of Peaty in the year after he'd found himself despairing as he watched the London 2012 results come in, got "drunk in a field somewhere with my mates and thought, I'm better than this", all round.
And so he was. Marshall asked for more and Peaty delivered on a consistent basis. In 2016, after Olympic gold was in the vault and Marshall looked back at the journey with a tear in her eye, she told this reporter that her Derby Swimming Club charge was "a soldier, a warrior, who'll go over the top whatever you ask him to do and know he'll knock down anything that stands in his way".
More on that journey later…
From The Archive in the same Lane 4 in London – April 17, 2015 – By Craig Lord
Adam Peaty The Pioneer: 57.92 100m Breast WR 91Yrs After Tarzan Took Free That Way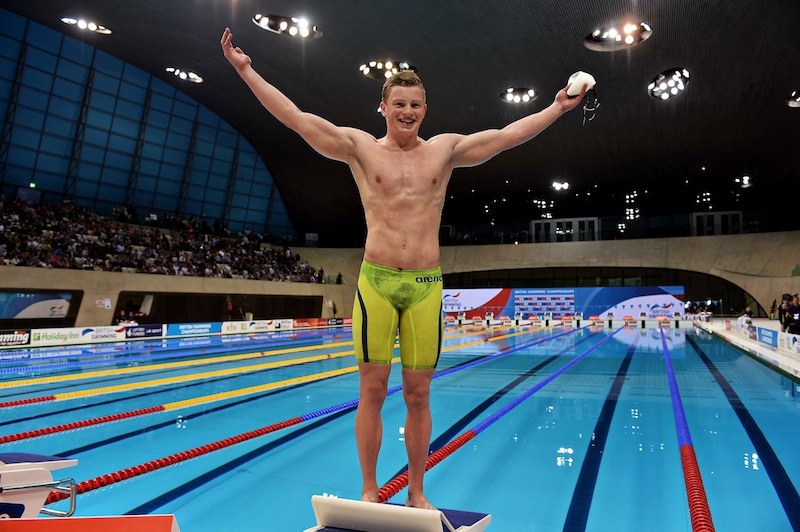 Adam Peaty, the 20-year-old pioneer who shot to prominence last year with Commonwealth and European titles, went one stroke further here in London this evening: in 57.92, he not only broke the world record in the 100m breaststroke but shattered it as the first man inside 58. It is 25 years since the standard was last in British hands, Adrian Moorhouse the pace-setter two years after claiming Olympic gold.
Racing in the same lane 4 of the London Aquatics Centre in which Cameron Van Der Burgh claimed Olympic gold in a world record of 58.49, Peaty, of Uttoxeter and racing for Derby, was inside the pace at which the South African reached the turn in the two-lap sprint: 27.04 to 27.07. A 27.04, Peaty, world dash record holder and now a double global sprint pace-setter, was quicker than the next best man on the solo dash rankings so far his year.
The crowd largely rose to its feet as Peaty powered home in a league of his own, not only in domestic waters on his way to the British title but in the history of the sport. Peaty literally held his hat as he stared up at the scoreboard: what? 57.92?
It is 91 years since Johnny "Tarzan" Weissmuller became the first man to race inside 58sec over 100m on freestyle, the fastest stroke in the pool. Peaty The Pioneer. Peaty would have beaten Weissmuller for the 100m free crown at Paris 1924 and almost done it again at the Olympics four years later in Amsterdam – on the stroke where water plays most painfully its role as a cruel mistress.
Peaty's threat to the 100m record had been on the cards since he beat Van Der Burgh for the Commonwealth title in Glasgow last July and then went on to add the European title and set the 50m breaststroke world record on the way to another of four gold medals in Berlin a month later, a relay world record in the mix with teammates.
Forty two years have gone by since the last time the 100m breaststroke world record was lowered by more than half a second in one fell swoop: when American John Hencken took out Japanese Olympic champion Nobutaka Taguchi's standard in 1973.
Peaty's margin of advantage on the rest of planet water this year is one of the wonders of world swimming: no other man had swum inside 59.7 so far this season, while only six others beyond the Brit had made it inside the minute. Until tonight, that is.
So incredible was Peaty's performance that silver sank from view for a moment. When it resurfaced, there was a terrific 59.13 from Ross Murdoch, of the University of Stirling: a Scottish record, world No 2 and a moment that also raised hopes of a fine summer – if Peaty steps aside from the 200m challenge – unlikely – and the Commonwealth champion gets the slot at world titles after a third-place finish in his best event at the end of a winter disrupted by ill health. Either way, Murdoch is likely to get the second 100m berth even though the instant cut stood at 59.00.
As the realisation of what had happened sank in, Murdoch congratulated Peaty and national teammates hugged each other. A moment they will never forget.
And this:
As things stand, Murdoch is on the team for the 100m and in at world No 2 this year:
[ranking 2015 MBR0100L 5]The Top Two Tweeting:
James Wilby, Loughborough, took bronze in 1:00.31, Craig Benson locked out in 1:00.51 and wondering if he'd just finished a 1500m breaststroke. On a night when Van Der Burgh clock d 2:11.37 for the South African 200m crown in Durban as part of his efforts to improve his second lap in the 100m, it was Peaty's homecoming lap that ripped the global two-lap standard apart. Down, too, of course, went Commonwealth and European records:
The splits compared:
27.04 57.92 (30.88) – Adam Peaty GBR London British title 2015
27.07 – 58.46 (31.39) – Cameron van der Burgh RSA London 2012 Olympic Gold
27.67 – 58.58 (30.91) Brenton Rickard AUS Rome 2009 World title
27.61 – 58.64 (29.03) Hugues Duboscq FRA Rome 2009 World silver
27.61 – 58.68 (30.91) Adam Peaty, GBR Berlin 2014 European title
"I can't believe it," said a beaming Peaty, who thanked his coach in Derby, Mel Marshall, for "making me believe that I could get to a 57." Courage is what the coach had fed in him. Peaty added:
"I knew I could get 58 mid and I knew that if the heavens were on my side I could get a 58 low but to be the first person under 58 – I have got no words. Thanks Mel."
Marshall tweeted:
"As I come down from the ceiling, and reflect, what a night. I wanna thank @adam_peaty for giving every session his best, every challenge… His heart, his soul and his courage. He has not had a day without a positive attitude and deserves everything he has achieved… 6 years ago we both got lucky and I thank him for trusting in me fully and I promise as he continues to strive for more I will continue to push myself to explore all the unknowns and educate myself to keep momentum within our mission 🙂 happy heart – what a moment."
Mel Marshall's Gladiator Into The Arena Of Global Title Contenders
Mel Marshall, a multiple medal winner in Commonwealth and European waters, knows all about expectations when it comes to conversion to world waters. Peaty's time elevates him to the clear favourite for the world crown in Kazan come August. Caution from the king of the clock:
"It's going to be a great showdown in Kazan, just because I've got the world record doesn't mean I'm going to get gold, so I'm going to get my head down and make sure I get the medal to go with it."
Asked by SwimVortex when the figure 57 had first entered his mind's eye, Peaty replied:
"When Mel said I could do it, Mel always puts faith in me before I do myself. That is the important thing about our relationship really. It did feel faster than the first 50 and I soon tied up but that is where more training is going to help me gone faster.
The start, the turn, the break into stroke, all could be improved for the greater sopped yet he believes he can achieve. The end was a touch too short for two stroke and too long for a last stroke not to have a touch of glide about it. Either way he would have cracked the record. Said Peaty after punching the air and waving up at "mum, nan and a few supporters from club and a few friends":
"I will watch it [the race video] back again now and hopefully tweaking and making as fast as possible."
In between talking to media and running a gauntlet of back slap on the pool deck, Peaty was treated to a backdrop of "Two Tribes" by Frankie Goes to Hollywood, as a reminder of the battle ahead in Kazan.
On where a world record fits, Peaty was blunt, feet planted firmly on the ground, goggles glaring at the reality of a sport that measures in time but counts in medals. Said Peaty:
"The world record is nothing without Olympic gold. This was about not putting pressure on myself, enjoying it and doing it doe the crown. I've always got Kazan in a few months time to do that [race to win not race to set records] that hopefully.
After winning the 200m on the first day of the championships in London, Peaty noted that his "red light" is thinking about "anything that makes you angry". The crowd helped him in a different way today as he surged on a sea of support. He said:
"It kind of activated itself on the last 50 when the crowd was absolutely roaring. I've got no words, I can't remember that race."
On the 50m in the morning he would "go off and get some sleep and see what comes of it". Clearly delighted, Peaty is a master at containing emotion, too, Phelps, Thorpe and others coming to mind down the years when it comes to celebrating with instant passion before quickly returning to the place where energy is preserved, perspective is ever present.
Asked how he felt when he saw the time, he laughed and said "I can't remember the race, to be honest." He would so after gathering his thoughts and watching playback as Marshall soaks up the science coming from another regular presence in the program, Mike Peyrebrune, the man who awaits Peaty & Co after each race with a needle and plea for a drop of blood for the testing.
So, how important are such moments when it is the middle of December and Mel is getting you to flip another tyre and dig deep into pain, I ask?
"Massively important. If I'm not going fast enough then we'll do it again and if I'm not fast enough I'll do it again. I think those repetitions are really important to make those final 25 metres as fast as possible. We are not going to change anything about that, it's got to be exactly the same. There's more work to do."
Tradition was alive: David Wilkie, Duncan Goodhew, Adrian Moorhouse, Nick Gillingham, the standouts of the past half a century.
One of the most successful Olympians in history and among the most recent world record setters from Britain, Rebecca Adlington joined a chorus of congratulations when she tweeted:
"Wow. Just wow @adam_peaty World Record. Absolutely destroyed it! So deserved. Congratulations to you and @massivemel!"
From 1:01.49 To 57.92 In A Quarter Of A Century
Moorhouse was the last British man to set a world record at the national championships – and he, too, set the standard in the 100m breaststroke and in London, Crystal Palace the venue. I was there that day and the atmosphere in the vault-like pool was not quite what it was today in architect Zaha Hadid's palace of a pool at the gateway of the Olympic Park in a Stratford and East london reformed beyond recognition.
The world mark has been similarly transformed down the years since Moorhouse, whose 1:01.49 mark has a feel of Weissmuller about it today. It was 2001, just 14 years ago, when Russian Roman Sludnov took the two-lap breaststroke below the minute.
Peaty did not arrive soon enough for a home Games in 2012, his mission with Marshall three years into the build of a new kind of breaststroke machine.
Off the blocks with a 0.59 reaction time, Peaty took 10m before he looked smooth – but when by the time he started to flow, most in the building were on their feet. After he turned in 27.04, no bums were left on seats.
In London legacy mode, the crowd roared Peaty on to a monumental moment.
"The crowd really carried me home on the last 50 because it's a hell of a pain train," said Peaty. Referring to racing in the same lane in which Olympic gold was won in the record he shattered last night, he added: "It's kind of surreal, there must be something in that lane four that really matters."
The record and title booked him a ticket to the World Championships in Kazan, Russia, in August. Said Peaty: "It's going to be a great showdown in Kazan. Just because I have got the world record now it doesn't mean I'm going to get gold so I am going to get my head down again and make sure I get that medal."
The Stats Of A Sensation
All-time:
Textile
57.92 Peaty, Adam, GBR 2015
58.46 vd Burgh, Cameron, RSA 2012
58.71 Dale Oen, Alex, NOR 2011
58.79 Sprenger,Christian, AUS 2013
58.90 Kitajima, Kosuke, JPN 2012
59.13 Murdoch, Ross, GBR 2015
All suits
57.92 Peaty, Adam, GBR 2015
58.46 vad Burgh, Cameron, RSA 2012
58.58 Rickard, Brenton, AUS 2009
58.64 Duboscq, Hugues, FRA 2009
58.67 Borysik, Igor, UKR 2009
58.71 Dale Oen, Alex, NOR 2011
58.79 Sprenger,Christian, AUS 2013
58.90 Kitajima, Kosuke, JPN 2012
58.96 Shanteau, Eric, USA 2009
59.01 Gangloff, Mark, USA 2009
The Gathering Storm
Peaty's progress beyond a stellar breakthrough season last year took a further twist in Berlin once more in February this year when he clocked the swiftest 100m breaststroke in history away from major championship waters on the last day of February: 59.04, off a 27.64 at half-way, the writing on the wall with a smooth 1:00.29 in heats (off 28.59).
Peaty leads the 50m ranks this year on 26.88 and will attack the dash mark in a time trials tomorrow morning.
In Berlin last year, Peaty set the world dash record at 26.62 in semis on the way to the European crown and one of four gold medals at that meet in August. In the 100m, on 58.68, Peaty became the second-fastest ever in a textile suit. Now he's fastest in all suits, all-time.
World record progression
1:01.49 Adrian Moorhouse July 26, 1990 London, United Kingdom …. some time passing …
59.97 Roman Sloudnov Russia June 29, 2001 Moscow, Russia
59.94 Roman Sloudnov Russia July 23, 2001 Fukuoka, Japan
59.78 Kosuke Kitajima Japan July 21, 2003 Barcelona, Spain
59.30 Brendan Hansen United States July 8, 2004 Long Beach, United States
59.13 Brendan Hansen United States August 1, 2006 Irvine, United States
58.91 Kosuke Kitajima Japan August 11, 2008 Beijing, China
58.58 Brenton Rickard Australia July 27, 2009 Rome, Italy
58.46 Cameron van der Burgh South Africa July 29, 2012 London, UK
57.92 Adam Peaty Great Britain, April 17, 2015, London UK – same lane
The Rise & Rise Of Adam Peaty
Recalling the breakout season of a star ascending – by Liz Byrnes and Craig Lord
The 2012 Olympics in London were an inspiration to Adam Peaty, who watched as Cameron van der Burgh broke the world record en-route to 100m breaststroke glory at the Aquatics Centre.
Just two years later Van Der Burgh had to settle for silver after being overhauled by Peaty in the final 15 metres in the Commonwealth title chase in Glasgow. The Englishman's time made him the only British man ever to crack the 59-second mark in 58.94. "When I saw Van der Burgh break the world record in 2012 I was like 'If I work hard enough I can be like that'.
"That gave me a lot of inspiration along the way. Racing him and getting gold was like 'Oh my God! Have I actually just done that?'
"It's a bit of a dream at the moment – I'm still coming back down – I couldn't believe it when I looked at the scoreboard. Hopefully in two years time (at the 2016 Olympics) it's going to be a very good race."
As a very young child, Peaty [Photo: Patrick B. Kraemer] had a complete aversion to water. He recalls:
"I was scared of water. I hated going in the shower, hated going in the bath and every time I went to the pool I used to climb up my mum's arms. I hated the pool."
Fears overcome, a school swimming gala led to Dove Valley Swimming Club at the age of 10 and four years later one of Marshall's friends suggested he try out at City of Derby. It was not an auspicious start with Marshall less than impressed by his freestyle.
"He was in the third lane with the 11-year-old girls," she recalls. But then I saw him do breaststroke and I thought this kid's good. He raced at regionals and I saw a real racer in him. He went from strength to strength."
He concurs: "When Mel first saw my freestyle I think she was threatening to throw me out. I didn't blame her. I came from a small club but that small club gave me the stepping stone to Derby.
"As soon as she saw my breaststroke I think it was a game changer: she saw the potential in what I could do. The freestyle was a really bad stroke."
There were also practical considerations. His father Mark does not drive and so the onus was on his mother Caroline on top of her work as a nursery manager. "My mum was like 'there is no way we can do that,' he remembers. "Financially it was a lot to spend on petrol – about £100 a week – and she works as a nursery manager on the other side of Derby near Stoke. I was used to walking down to the pool – twice a week – and it was a massive change financially and lifestyle-wise."
There was a team effort with Marshall and others all pitching in to make sure he could get to training at Repton School and latterly twice weekly at Loughborough. Eventually – with help from Marshall – he bought himself a car, christened the Red Stallion. He acknowledges the difference that has made to all involved.
"That has helped my parents," he says. "What has changed this season is that I was able to get every single session in. Last season I was relying on my mum to get up in the morning. Some mornings she'd had a really hard day at work and couldn't get up. This season we've got rid of that factor and the times have shown that I haven't missed a single session. We pulled it through and here we are."
So started the Marshall-Peaty partnership but before long there was a testing moment when the teenager didn't want to use fins during one session and walked out. A moment that both coach and swimmer remember well. Later that day he left a voicemail on Marshall's phone: "I'm sorry!" For his part, Peaty confesses:
"I don't know if Mel has told you about the swearing. I said I wasn't doing it: I stormed out. I don't think we've had an upset since."
A pivotal moment, not long afterwards a 15-year-old Peaty had a lightbulb moment when he decided he wanted to devote himself to swimming. "I'd been at Derby for about a year and my GCSEs were coming up. I was like either choose sport or choose education as a proper job. So I thought give sport a good chance because you can come back to education any time in your life. I didn't want to look back later in life saying I wish I had carried on with swimming. When I was 15 I had that click moment, just get my head down and train as hard as I can and here I am."
Fifth place in the 200m breaststroke at the 2012 European Junior Championships in Antwerp was followed a year later by the British trials for the World Championships where he narrowly missed out on a spot for Barcelona. Weeks later he dipped under the minute mark for the 100m breaststroke for the first time at the ASA National Youth Championships.
Although pragmatic, missing out on world titles in Barcelona only spurred him on and he made his senior international debut at the European Short-Course Championships in Herning, Denmark in December 2013. That was followed by a gold in the 50m breaststroke and silver in the 100m and 200m at the British Championships in April 2014.
It was not what he was looking for said Marshall. "He was disappointed at trials. It was the best thing to happen – he was able to channel it."
He set about taking a sledgehammer to his best times, notably a British 100m record of 59.25 at the Mare Nostrum in Barcelona in June. And then came Glasgow. After victory representing England in the 100m breaststroke came second in the 50m and victory in the medley relay although Peaty wasn't so happy with his time coming fourth in the 200m.
Among those achievements was a European record of 26.78 in the 50m. Not that that made a major impression on him. "I only realised I'd got that a couple of days ago," he said casually to Marshall between sets.
His exploits in Scotland at Commonwealth Games gave him a modicum of self-belief although it seems that others had more faith in him than he had in himself. "All the coaches at Dove Valley believed in the potential I had," mused Peaty [Gian Mattia D'Alberto / lapresse]. "I'm not the same person I was at Dove Valley.
"Back then I was doing it more for the social: I liked to see my friends, I wasn't really taking it that seriously. As soon as I got to Derby that changed: not instantly, it took a lot of doing. All the coaches believed in me and most of my friends thought I would go quite far but I didn't believe it until the Commonwealths – that I could get the medal. Some people get there, qualify first and then come last. I didn't want to be that person. I qualified first on the 100 and was like keep this going now and get the gold."
The City of Derby squad train mainly at Repton School, a private educational establishment in a village of less than 3,000 in Derbyshire. Driving into the village, there is a serenity, a calm. A seat of learning. Every week a little bit of that calm is punctured when Peaty flips tractor tyres, part of his land work.
When he met Liz Byrnes for SwimVortex last year, Peaty is alone in the six-lane pool, the only sound the swimmer cutting through the water. It is where the school galas take place, with seating for all of 80. "It's an amazing facility," he smiles. "It's great. I couldn't think of a better place. It's the middle of nowhere: pretty much out of the way. "It's nice and peaceful, you just crack on with it."
What is clear is the relationship between coach and swimmer. Marshall says: "I love coming to work. It's not often you meet people who are as driven as you are." She adds:
"He is a sponge: one of his best attributes is his listening. I really like him as a human being. I like spending time with him, he's a good guy. There are times when I have to be a right cow to him, and that is hard. You have to be a disciplinarian."
Tellingly she says one of the ways she has to come down on him is to alleviate how self-critical he can be. "Because I did so much ground work with him when he was younger half the time he needs reassurance because he is pushing so hard.
"Sometimes he needs a talking to because he is being so hard on himself. Don't pull yourself apart because of one bad day: look at what you've done. When they want it as bad as that your world changes, you have to be a supporter as well."
Peaty readily acknowledges there is a voice of self-doubt. It is in fact something he embraces. "It's good for me to have doubt. I don't want to be overly confident if you get me. I think that is a danger," he says.
"I think that doubt keeps me grounded – hold on, you are not actually good enough to perform that yet but if you train harder you can get those times. I think that is a massive strength for me: I can't control it, it's all subconscious."
He adds: "I can do this set and do really good times: yes, I'm happy but there is an element of doubt saying 'is that really good enough?' and I think that doubt gets the best of me sometimes. It is really good to have that."
"It spices things up a bit," explains Peaty [Gian Mattia D'Alberto / lapresse]. "Most people are like yeah this is really good, confident and that. I don't really like to be like that, I like to be a bit humbler. Obviously I am confident when I race but I think that doubt keeps me grounded in training. I think that is the most important thing – I can crack on with it and get the best times I can."
In Glasgow Van der Burgh spoke of how Peaty and fellow British breaststroker Ross Murdoch, winner of the 200m breaststroke and third over two lengths, reminded the South African of himself at their age. While intensely competitive, Peaty acknowledges the achievements of the likes of Van der Burgh and world champion Christian Sprenger.
Says Peaty: "Everyone wants to win. Cameron is a great guy, I've spoken to him a few times now. Sprenger – they are all great guys and all worked hard to get there. Everyone wants to win but it's getting that balance right with respect at the same time. You've got to have respect for your peers: everyone has that strive to win and is hungry for it."
He adds: "I want a lot more meets to get my good times out there and get up against those guys. It's only one meet. That doubt will carry me all the way throughout my career and hopefully it does, it helps me a lot. When I see Sprenger and Van der Burgh – they are amazing, gold and silver Olympic medallists – but then I am like you can be like that if you keep carrying on like this.
"Then there is that doubt which is saying it's not 100% certain, anything can happen along the way. I don't want to mention karma or anything but anything can happen between now and two years time so I am not going to be over-confident saying this is a straight road to Rio because it is not, its going to be like a rollercoaster."
Whatever may come, Peaty is consistent in acknowledging all those who have helped him on his journey. Dove Valley. The youngest of four, his family. Marshall. "She's amazing. I can't describe a better coach for me personally," he says.
"If there is a problem we'll sort it out. Even if it is a problem you can't sort out we'll crack on with it. It's kind of a special bond."
"There's not been a time where I am like 'oh my God what's happening?' I put enough trust in her to know what's happening, I just do the training and she does the sets. I don't have to worry about am I doing the right stuff. It's all about two years time: I want to peak then. Hopefully the building blocks are in place to perform at my best then. She knows what she is doing and hopefully those building blocks can be the correct ones for Rio."
From a close-knit family, Peaty, whose exploits landed him an arena deal last year, is very close to his grandmother. "My mum and gran were in Glasgow. I think my gran is my biggest fan. She has always looked at Becky Adlington and said 'oooh get me her signature'. I don't think she quite realised that I could have the potential to be like those people but she has supported me through my career and has never put pressure on me, you need to do this or that."
While the tides are high for Peaty now, he has only to speak to his coach as to how there can be crushing blows in sport. Marshall was ranked first in the world in the 200m freestyle going into the 2004 Olympics but finished 16th in Athens. A strong character is Marshall. "He has got to get used to those arenas." She adds:
"It took 10 years and a failed Olympics for me. If I hadn't have gone through that then I wouldn't have had the skills to help others. Would I change it? No. I would rather be a good coach for the next 20 years."