Adam Peaty @Colosseum: Lion To Roar My Values, Remind Me How I Became Olympic Champion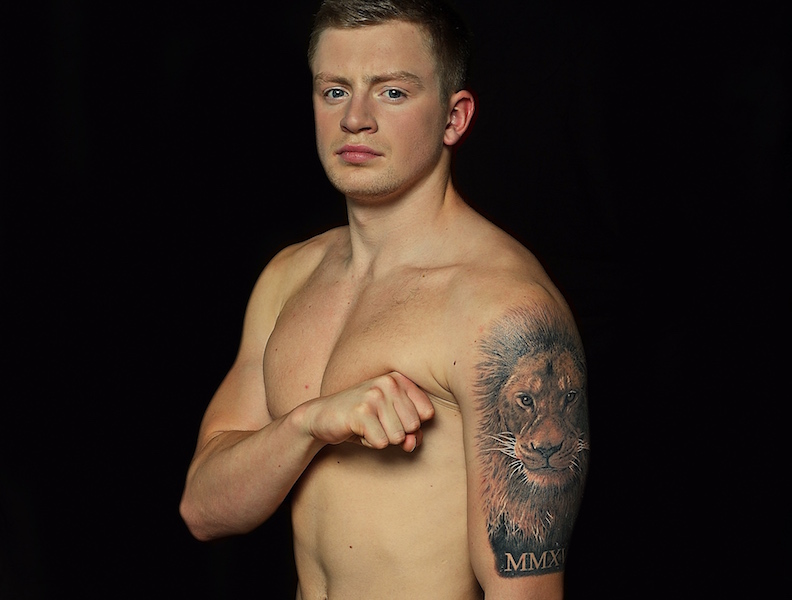 Adam Peaty (GBR) and his 57.13sec world record in the 100m breaststroke accounted for the single most outstanding performance in the pool at the 2016 Olympic Games. The following is the SwimVortex version of a feature that appeared in The Sunday Times in Britain on October 9, 2016, when Peaty raised the prospect of sporting immortality and made it clear that Rio was just the start…
A Champion Who Wears A Roar On His Sleeve
You can almost hear the roar, so close to the Colosseum our meeting place in Rome. This is not Spartacus before me and the lion is a tattoo running from one of the biggest shoulders in swimming almost to the elbow of the Olympic champion but when it comes to modern-day gladiators,  Adam Peaty entered the pantheon of the legendary in Rio back in August.
The 21-year-old from Uttoxeter in England not only claimed Britain's first Olympic gold among men in the pool for 28 years in Brazil: the world record he set at 57.13sec for the biggest winning margin over 100m breaststroke in Olympic history was the outstanding performance in the pool at the Games. As far as a single swim goes, Peaty even outperformed the royal two, Michael Phelps and his fellow American multi-gold-medallist teammate Katie Ledecky.
Job done? The broad grin and twinkle in the eye is that of a boy who got the joke. "You wouldn't believe how many people have asked me if I'm going to retire now," says Peaty with a shake of the head.
"I'm like 'what you on about?' This is just the start. This is what I wanted. Now for the legacy."
That means raising the bar and setting an example, in and out of the pool. It means "Project 56" with coach Melanie Marshall and much more, stretching all the way to inspiring a generation to want to be "not just famous but famous for actually achieving something".
His own achievement as clear as where he wants to go next: Peaty aims to take the world record below 57sec in an event in which his dominance already makes him one of the outstanding pioneers of his sport. And "when not if" he does it, he says:
"I'll be thinking about the next two of three Olympics and how I can do something that will make the best of where I can get to immortal. That's the beauty of sport, like Phelps, you can do something that your kids, their kids and their kids after you will be speaking about long after you're gone."
In one sense, Adam Peaty has already achieve immortality, as Olympic champions always do but he means going where Tarzan swung before him and beyond, on breaststroke, the slowest stroke, not freestyle, the fastest. When Peaty clocked 57.92 to become the first man to race inside 58sec last year, Peaty elevated the slowest of all four strokes to a pace many thought would not be seen for a few more Olympic cycles to come.
Expectation shaken, he shredded it in Rio: at 57.13, the City of Derby Swimming Club ace was travelling inside the pace of Tarzan, Johnny Weissmuller, at his best ever on freestyle back in 1924 and now has his sights set on a zone Mark Spitz reached for his first world record on butterfly in 1967.
No-one in history is within 1.3sec of him (and ocean over two laps) on the clock, while Peaty has seven of the best 10 times ever, with the bulk of medal contenders at global level still struggling to crack 59sec.
His speed and presence now striking fear into the hearts of those he races before the gun goes off, what need of a lion? "The lion stands along anytime he needs to – he doesn't need a pack to go into battle. He can walk alone anytime and take down a herd if he needs to," says Adam Peaty, his jaw tightening a touch as he speaks.
"I will draw on that before I race. It [the tattoo] will remind me what I stand for. It's with me for life now and I'll know what it means whenever I look at it; it will remind me of my values and how I became and Olympic champion."
In the mirror, what did Rio look like? "It was my first Olympic Games and it couldn't have been a better outcome. We (Great Britain, with Chris Walker-Hebborn, James Guy and Duncan Scott) could have got gold in the [medley] relay but we were outperforming there anyway."
Adam Peaty had struggled to find his very best form at world titles last year but had still managed to take gold in the 50 and 100m in tussles with the London 2012 100m champion Cameron Van Der Burgh (RSA). In Rio, the Brit had moved up a league and made it all look so easy. It wasn't, though the beautiful horizon of Belo Horizonte gave way to a realisation once in the Olympic pool that the world had been done and if there was anywhere in the world he belonged at that moment it was right there in Rio.
"Going into Rio, I was quite nervous because I didn't know what to expect," Peaty explains. "At the holding camp I was around all these big athletes in Belo from many sports. But when I got into the pool in Rio and the big arena, that was it, I knew I was ready to take it on.
"I had none of the anxiety I had last year at the World championships. I dealt with that problem and by the time we got to Rio I just wanted to get out there and race and perform. I've watched final back: I was so focussed. I didn't even really know how I did that. It was crazy. To go away with a 57.1 is mad."
He had wanted a 57.3, while 57.1 "was well above my expectations. It just proves you can step up and do it if that's what you've prepared to do".
Preparations for Rio also taught him to disregard chatter and the pub-room crystal-balling that goes on in sport among those whose guesses are often far from educated when it comes to knowing what any particular athlete  is ready to do come the biggest hour. Rio and many a result proved that beyond a shadow of a doubt.
Says Adam Peaty: "On some fan websites, you get linked in to these big discussions where people are saying 'he won't do it', Kevin Cordes is going to take him down' or whatever they were saying. Stuff like that is all guessing games: those people have no physical evidence, no idea what I've been working towards and how much work I've put in.
"Stuff like that makes me even more eager to do it and prove what I've been working on. I'm just so happy to have delivered on that and now have that to sink in, to realise what it took, not just for me but for Mel, for my family; it's been hard for them sometimes, too."
Olympic champion. Had it all sunk in? "Gradually … It takes time," says Peaty. He had woken up that morning to the luxury of the Waldorf Astoria in Rome, had sauntered down to breakfast with his kit sponsor arena and realised that none of this would have been a part of his life were it not for his new status: Olympic champion.
"I realised that this morning as I sat there. It was a very proud moment, in a quiet way," he says. "Wherever you go, that status comes with you; it's the pinnacle of the sport and no-one can ever take that away from you."
Adam Peaty Relaxing Before Return To The Coal Face
Peaty enjoyed a seven-week break after Rio. He went travelling with his girlfriend 19-year-old Anna Zair to California and found himself in new realms, thinking new thoughts. All of which was critical to what came next in the pool, he believes after the longest break of his career.
"A lot of people know how to work hard but don't know how to relax," says Peaty. "Those things work hand in hand. If you're working hard and you don't know how to relax, you're going to burst a bubble."
Mel Marshall pointed that out to him last year. Peaty held on to win the world 50m and 100m world titles at the touch in times down on best at the global championships held in Kazan.
"I'd had Commonwealths, Europeans, a week off and then Singapore Stars and then straight back into training in 2014," he recalls on the way to world-title trials and a world record in 57.96. A pioneering moment – but the long season started to take a toll by the time the big event came round.
"I got to worlds and felt like I was flagging and felt like I was even enjoying it. I was racing to survive whereas in Rio I was racing to improve myself and for my country."
He took three weeks off after world titles and "some people told me, 'Olympic season? You're crazy' but me and Mel knew it was essential to have that time out and come back completely refreshed and ready to fight if it was going to happen."
Now, the celebrating and the Uttoxeter homecoming parade done, Adam Peaty is back to the grind, Rio confined to the treasury. "It was a great moment for me and I will get a lot of reward from that, which is great; you get invited to so many things." He will be discerning in his choices with Marshall and his manager Rob Woodhouse, an Olympic medallist for Australia in the 1980s.
"You know Rob well. He's a great guy. I've been with him for two years and would trust him with my life. We're not completely jumping on the bandwagon; we're going to let it settle down a little bit and see who really cares about moving forward together."
By that, he means that anyone who wants to join him on his next mission must understand: swimming first, every time. Arena gets that, any others who want to travel with him would also need to sign up to what it is all about.
Peaty's passion runs deep as he explains his mindset at the start of sequel: "I'll continue to work hard; I know that I work harder than a lot of people, that's what gives me confidence.
"When you've achieved the status [Olympic champion], a lot of people just relax too much. I've had six weeks off but as soon as I'm back to the work, I'm back to it. I'm not half-hearted at anything."
Marshall, a pioneer honoured by her coaching peers as Britain's top mentor in swimming for the third year in succession, confirms as much. She calls her charge "a soldier, a warrior, who'll go over the top whatever you ask him to do and know he'll knock down anything that stands in his way".
The military approach speaks to Peaty's first love. "The military was what I wanted to do throughout my whole childhood and into adulthood. If it wasn't for swimming, I'd be in the Royal Marines with my mates. I love the camaraderie; I love being in a group; I love pursuing excellence and that's what I do know. That's what swimming and sport is about for me."
Peaty married his two passions before Rio when "spent two days with Harry, a man from the SAS, going up and down hills" trekking for three days. The swimmer wanted to know whether there was any psychological help he could draw on from the experience of SAS soldiers.
The soldier told him that 'whatever comes in your path, it is as simple as putting one foot in front of the other and continuing down the path that you've set yourself'. "That's how he put it. If you don't want to give up, then keep putting one foot in front of the other and you will get there. Be determined, consistent and never stop, no matter what. That's so relatable to sport, it's crazy," says Adam Peaty.
His partnership with Marshall flourished against the odds of small local pools in Derby and at Repton School with a few days at Loughborough University's world-class facilities each month.
From this week, Loughborough has become Peaty's permanent base, provided that Marshall's prospect of a coaching job at the excellence centre is confirmed. Peaty's faith in that happening has been strong: he bought his first house in Quorn, a village famous for its hunt and residents such as cricketer David Gower and World Cup winning goalkeeper Gordon Banks. The university pool, all 50m of it, is just eight minutes away in his car.
And if Marshall does not get the job? "I'll be moving house again", he says, laughing but not joking.
In Rome, at a time when the relative fat of six weeks out of water can leave swimmers with a sinking feeling when contemplating the pain of clawing their way back to fitness, Peaty said:
"I can't wait. It's a challenge and that's what I love. Now I only live eight minutes from the pool instead of 'oh no, I've got a 40 to 45-minute journey to training journey' like it was before. Eight minutes. I can cycle If I want to. It's going to be great. Me and Mel have got work to do."
Brain Not Only Braun
And what would he do with the extra three hours a day he will have to himself? In time, beyond Toyko 2020, he would like to read history at university but the purpose of that would be to understand more about "battle strategy".
He's fresh from a tour of the Colosseum: "I love that era. Anytime between 200BC to 300AD when the Romans were at their height and they conquered the world; I just love all that. I'd like to read history for a degree at Loughborough. That won't happen until after Tokyo. I'm also interested in World War II, battle strategy, tactics;  that completely gets my clock going, so."
The kind of war zone that draws his gaze is cultural: "I've given it some thought … now I've achieved what I wanted to achieve, it's not going to stop there. I think I have eight more years left in this sport. I've been thinking, observing a lot, having a look at how people operate. I've seen a lot of people do this stuff and then just fade away. They're not using that experience to pass on down the generations. Not just in swimming but the way we do in families at large: how to be a good person, how to get on in life. It's not a hard thing but so many of those who achieve then just go on to these TV celebrity shows."
He evokes memories of the last British man before him to win Olympic gold in the pool, and in the same event, Adrian Moorhouse, who said after his own achievements: "You will never find me sticking my head through a box on TV so that people can guess who I am and remember what I did … just not me."
Not Peaty either. He says: "As soon as you switch on TV these days, you've got swearing, just people being absolute tools and getting famous from it and if kids see that, they're going to do exactly the same. We live in a culture now where people will do anything to get on YouTube, on Facebook and get noticed through some viral video doing something absolutely stupid."
"It's just not achieving anything. I'm so involved in wanting to create a legacy not just for the next generation of swim stars but the next generation of good people."
Adam Peaty & Home-Grown Attitudes
Up to Rio, Peaty lived with parents Caroline, 50, Mark, 56, in the household he grew up with in siblings Richard, 28, James, 24, and Bethany, 22. At 21, the swimmer is the baby of the family.
In Rio Caroline recalled her role:  "It was really hard sometimes. I'd be getting up at 4am, taking him swimming for 5am, then I'd go and do the shopping while he was training, I'd drive home to drop him off, have breakfast, get ready for work, do a full day's work, then go training at night with him again."
"But it was hard going for Adam because he had school and all the exams but he kept at it. If anything, he was the one who dragged me out of bed, not the other way round. As far as I remember, he never complained about getting up. If I wanted to stay in bed another hour, he'd say: 'Come on mum, champions aren't made in bed!'
Back home, Peaty's #OlympicNan, Mavis was waving the flag in between the flood of interviews and celeb appearances she was treated to. When Peaty first swam for Britain, it was Mavis and only Mavis who was allowed to wash his GBR kit. The swimmer has explained several times: "She does very small loads and keeps the colours together."
The 74-year-old is among his biggest fans. "What a race… oooo I'm so proud… he's a gladiator," she tweeted after that 57.13.
Caroline felt the same, telling us in Rio: "I'm so very proud of our son. We knew what he was capable of, but the world record – in addition to the gold medal – is something else. We're thrilled the hard work has paid off and he's fulfilled his lifelong dream. Watching him compete, I think I was more nervous than him but it was incredible to be there and soak up the atmosphere.
"Family support at swim meets is so important, to be there with Adam to share the joys and also the disappointments. I travelled to Glasgow to watch Adam in his first Commonwealth Games competition but wasn't able to stay to watch the remainder of his swims. Having to leave was heartbreaking, so being here in Rio – and actually being able to stay for the duration, means so much."
Holidays sacrificed, many a day when she had struggled to get Peaty to the pool as a boy, so strong was his fear of water. It all paid off. As Marshall noted: "All those journeys to Derby and back, day after day, were a huge stress for the family. They didn't realise how talented he was – they thought I was some crazy coach telling them to take him swimming at 4am. His family has been a huge part of his success."
The Next Wave
Critical of the world cup and having opted out of the world short-course championships, Peaty's next big target is to retain his 50m and 100m world titles in Budapest next July. FINA, the international federation, faces a challenge in the coming two years from the World Swimming Association, a new body backed by many of the world's leading coaches and some swimmers with the intention of taking over global governance of the sport. If the current bosses survive that, they can look forward to Peaty and others further down the line.
Says the Olympic champion: "I'd love to have a position where I could have a positive impact on the sport, not just on people. I think the sport needs some people who have been there and done it, so I'm thinking of going into that area as well. Maybe in the IOC or FINA, where you can absolutely make a difference and change that culture and know what's 100% right and you'd be willing to do anything … for the athletes and those who work at it every single day. Recently in swimming governance it just hasn't been like that. I think it has to change and I'd be 100% up for playing a role come the time."
Before that, there are two World Championships (2017 and 2019), a European Championship for Britain and the Commonwealth Games for England on the way to Tokyo 2020 and the defence of his Olympic crown "and other events I'd like to have a crack at".
Pressure to keep his standards high now comes from home not always overseas. "Britain and particularly British breaststroke – just so strong now. You just don't know what's coming so you better keep on your toes".
Someone might come and do to him what he had done to those before him? "Yeah, maybe." Adam Peaty doesn't sound convinced. He has "much more" to give – and he wants Loughborough to use his Olympic medals, including silver in the 4x100m medley, his two world titles and seven world records to inspire him and others.
"I want them to put those records up on the wall right there in the pool like the big U.S. programs. Every time I turn my head in training at Loughborough, I want to see those world records up there as a reminder and inspiration. I want to know this is my base, our Colosseum: hashtag gladiator."