Abbie Wood Rattles Her Career High With 2:09.24 Win In Glasgow 200IM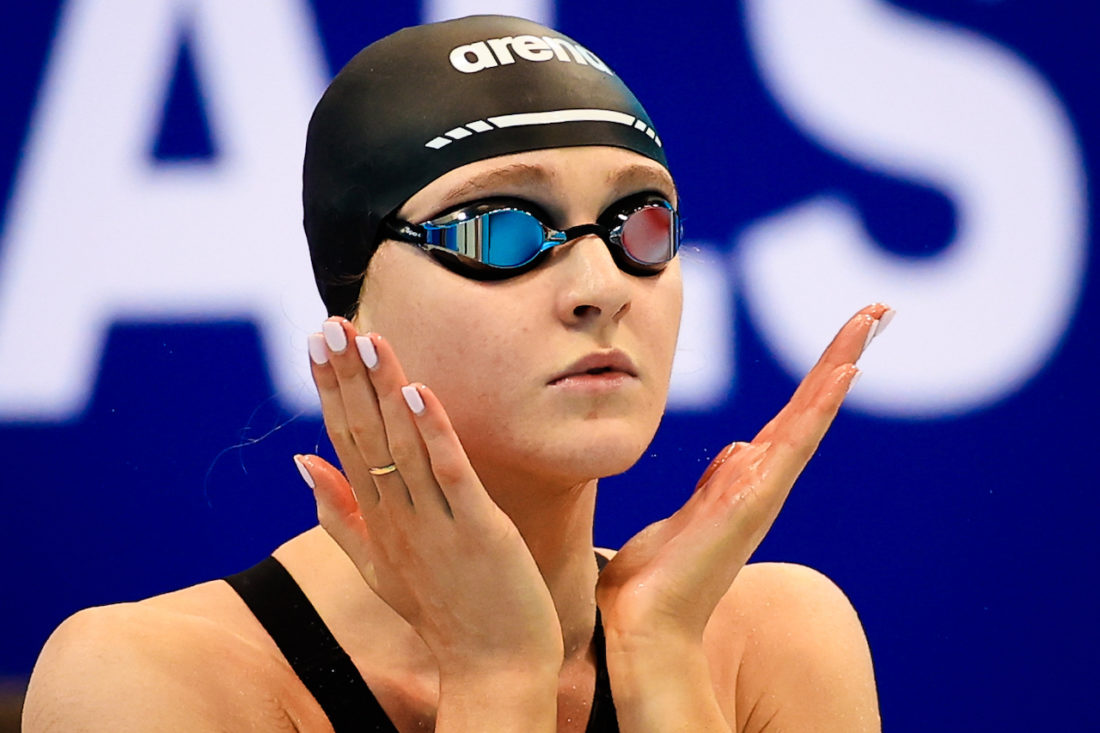 Abbie Wood is making 2:09 200IMs a habit this year, her latest effort, an unrested, unpressured 2:09.24 at the  British Swimming Glasgow Meet the fourth-fastest time in the world in 2021, with Olympic trials still to go in the United States, Australia and Canada, and other qualifiers still underway in several nations.
Britain in one of those and while the bulk of the Team GB swim squad has been selected, the Glasgow event at Tollcross International Swimming Centre offers a chance for swimmers not already on the team to fill any vacant slots.
Abbie Wood emerged from her fine effort to note that a time 0.79sec faster than that in which she claimed European-Championship silver last month in Budapest had not a little to do with scheduling: the 200m medley was Wood's ninth event in Hungary. All good endurance practice for the Tokyo challenge across nine days in late July.
On the first of three mornings of finals in Glasgow, Duncan Scott cruised a 1:57.28 in the 200m medley, James Guy went 51.16 in the 100 butterfly and Kathleen Dawson sawn 2:08.85 in the 200m backstroke, an event she will not race at the Tokyo Olympics, and the breaststroke dash finals went to Adam Peaty in 26.86 and Loughborough team-mate Sarah Vasey, on 31.00.
Abbie Wood Better Than Budapest Silver
Wood and Alicia Wilson are already headed for the Tokyo blocks in the 200m medley, today all about race practice. Coached by Dave Hemmings at Loughborough National Training Centre, Abbie Wood led throughout on her way to a dominant win in a time that would have taken gold at the European Championships last month.
That was then and a 2:09.99 granted Abbie Wood silver behind Israeli pioneer Anastasia Gorbenko in Budapest, both ahead of Olympic champion Katinka Hosszu. The race in Tokyo is likely to be somewhat quicker.
Abbie Wood in Glasgow today: 27.57, 1:01.12, 1:37.93, 2:09.24.
At Olympic trials in April, Wood clocked 2:09.23, her career high, to hold off a big 2:09 career high from Wilson.
So far, Madisyn Cox (2:08.51), of the USA, and Kaylee McKeown (2:08.73), of Australia, have dipped below 2:09 in the 200m medley this year. That is likely to change as the last of the big swim nations set about selecting their Olympic teams in mid-June.
Speaking through British Swimming, Wood said:
"I think it was tough for everyone to get up, my only goal was just to go faster than last night – I did that and so it's putting good practice in for Tokyo. You can't have excuses because everyone's in the same boat, it's about who has prepared the best – and British Swimming putting on morning finals is preparing the team really well.

"By the time I got to the 200IM final in Budapest, it was my ninth race. I love stepping up for the team, but I've not had chance to do the 200IM at the start of a meet yet, which is probably why that was a bit quicker. It's nice to see where I am when I'm not done in by lots of races like I had done at Europeans. It's set the meet off in a nice way."

Abbie Wood – photo by Georgie Kerr, courtesy of British Swimming
Scott Sets Pace As Brothers Litchfield Race Home 0.01sec Apart
Duncan Scott went through splits of 25.75, 55.27 and 1:29.09 ion his way to a 1:57.28 win over the Brothers Litchfield brothers, Max on 1:59.12, Joe on 1:59.13. Scott said: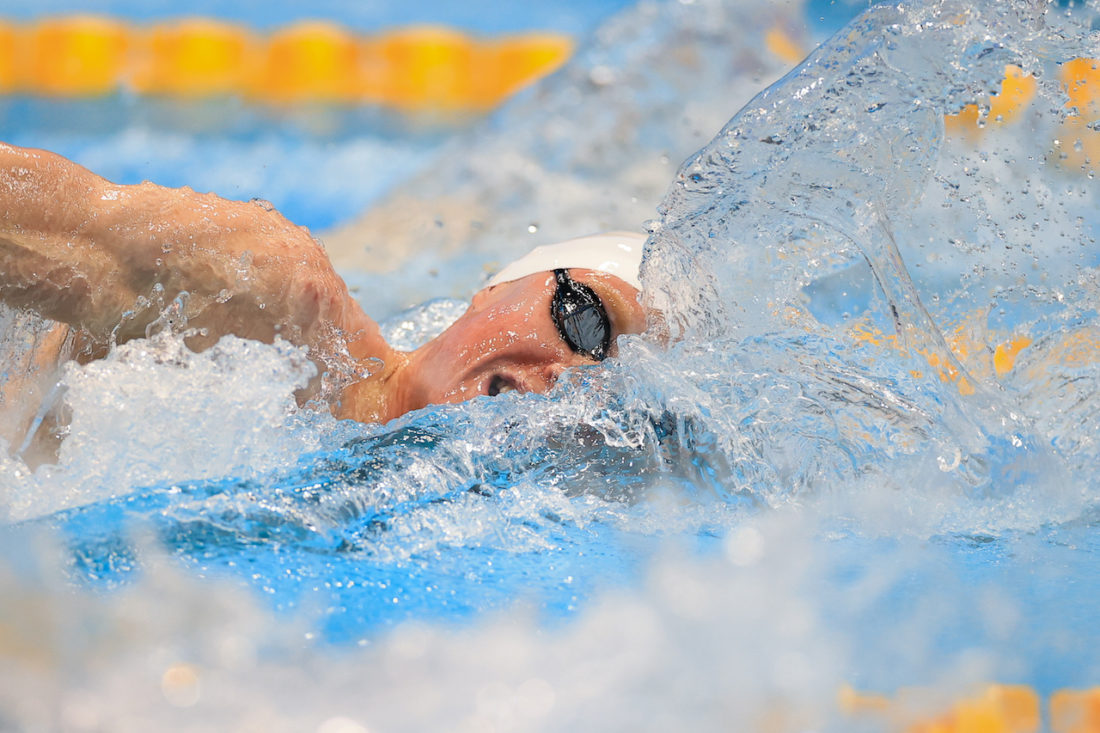 "Time-wise it was good but I guess you can't really look into a time. I'm not here to focus on the time, I'm learning things for morning finals. I've done quite a lot of preparation for that.

"From a British Swimming point we're all looking at different things here.  People are trying out different things and I think it's quite a good idea to have this meet on. It's a good exercise to trial and really improve on what we can do in the morning before we have finals."

Duncan Scott, photo by Georgie Kerr, courtesy of British Swimming
In the 100m butterfly, James Guy split 23.54 and 27.62 for the win, his 51.16 just0.17 off the time in which he claimed European bronze in Budapest last month.
Jacob Peters, 52.71, and Ed Mildred, 53.15, completed the top 3.
Coached by Dave McNulty at Bath NTC, Guy said: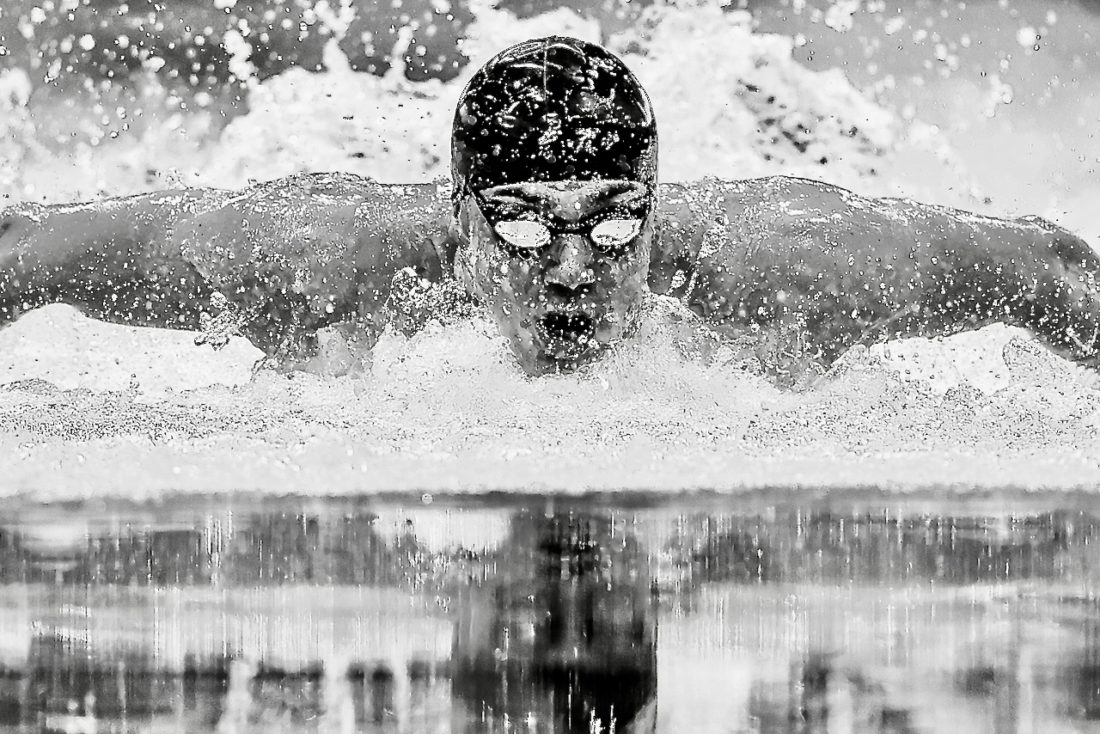 "Considering we've just driven 450 miles to get to Glasgow, what a great swim! That was very unexpected, since Europeans we've been straight back into work with the eye on the bigger prize of Tokyo – but what a great swim to start the meet off.

"We came back from Budapest, we had one aerobic session and since then we've been in the middle of work. This meet here is a prep meet, trying new things before Tokyo, and obviously morning finals is a big part of that. So to do that time in the morning is a good time. 

"I'm in a great place, I feel really confident with what I'm doing. I feel happy at home, and I think having that balance between swimming and lifestyle at home is really important.

"Everything is coming together quite nicely."

James Guy – photo courtesy of Georgie Kerr, British Swimming
Kathleen Dawson, European 100m backstroke champion and rattler of the 58sec barrier in Budapest, took the Glasgow 200m backstroke in 2:08.85 ahead of Katie Shanahan (2:12.79) and European silver medallist on 2:07 last month, Cassie Wild, third in 2:14.26. Dawson had her eye on Wild's Scottish record but was a second out. She said: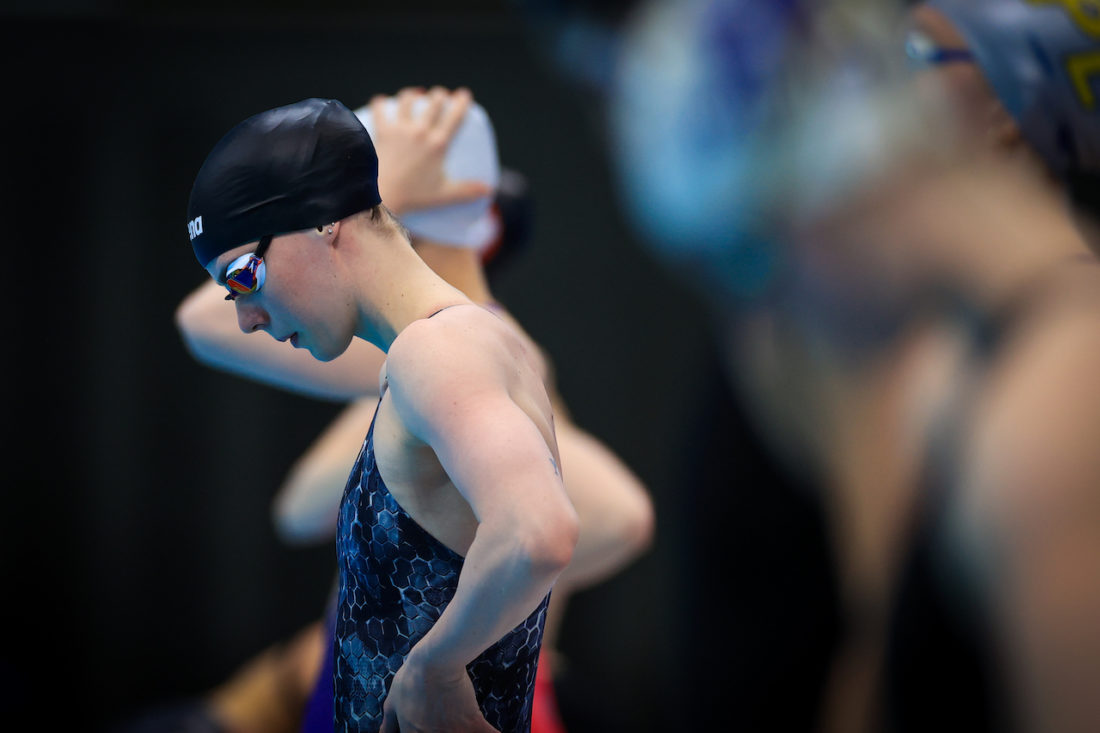 "It's good to be able to come into this and adapt to doing morning finals. I did well, I'm happy with the swim. I did everything I could to beat Cassie's Scottish record but it wasn't to be! We've both been swimming so well in training and she absolutely deserved it and I was really pleased for her," she said, referencing training partner Wild's 200 silver in Budapest. I've got confidence in my ability to come back in that last 50m on the 100m, so to be able to swim that well as that in the morning in the 200m gives me a lot of confidence for the morning finals in Tokyo."

Kathleen Dawson, by Georgie Kerr, courtesy of British Swimming
Other highlights from Glasgow:
Luke Greenbank 1:58.12, 200m backstroke
Ben Proud 21.93, and Anna Hopkin 24.83 (24.67 in Thursday evening heats), 50m free
Harriet Jones, 59.27, Keanna MacInnes, 59.57, Alys Thomas 59.69, 100m 'fly
Dan Jervis, 15:16.69, 1500m free, with Luke Turley on 15:21.26.