2:08s From James Wilby & Ross Murdoch On Breaststroke & Alys Thomas On Fly Just The Ticket For Tokyo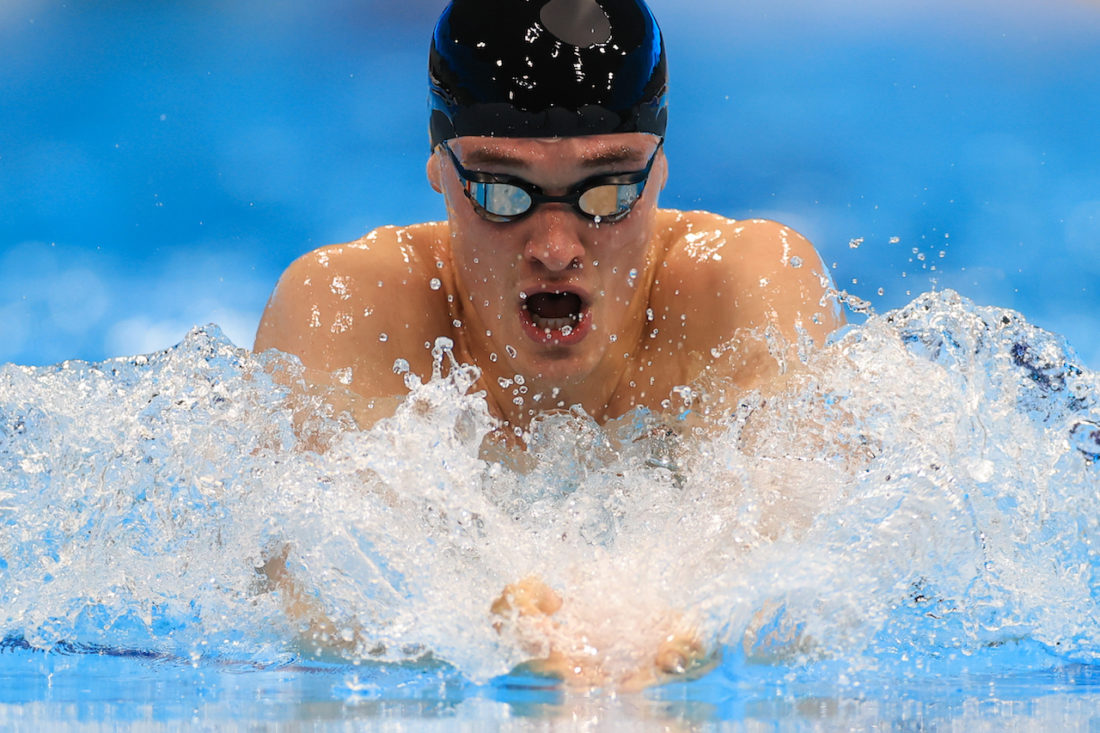 They were all on 2:08s, James Wilby and Alys Thomas at the lower end, Ross Murdoch at the upper end, the other thing they had in common a Tokyo consideration cut each, the men on breaststroke, Alys on 'fly.
As champions on the day, Wilby, on 2:08.06 and Thomas, on 2:08.09, get an instant ticket to Tokyo, Wilby standing an event to the pre-section pass he'd already been given courtesy of the silver he claimed adrift teammate Adam Peaty over 100m at the 2019 World Championships.
While Murdoch, the 2016 European champion, must wait for the technicalities of second berths inside target time being confirmed among the 35 places available for swimming on TeamGB in Tokyo, his 2:08.98, a Bond-like margin of 0.07sec inside the cut this evening, was good for a return to the Games five years after Rio 2016.
Wilby described his effort as another step towards his ultimate targets come Tokyo. He said: "Being pre-selected is pretty nice, that little safety net – but that didn't take away from me coming here, a few months out from the summer, and really wanting to put some fast swims in and set myself up for going towards the Games."
James Wilby – " … a pretty special group of people to be around'
Wilby, who on the eve of trials spoke of how it feels to have Adam Peaty as the man to beat in domestic and World waters, pointed to his work at Loughborough with coach Dave Hemmings as the driving force of his fine form. He said: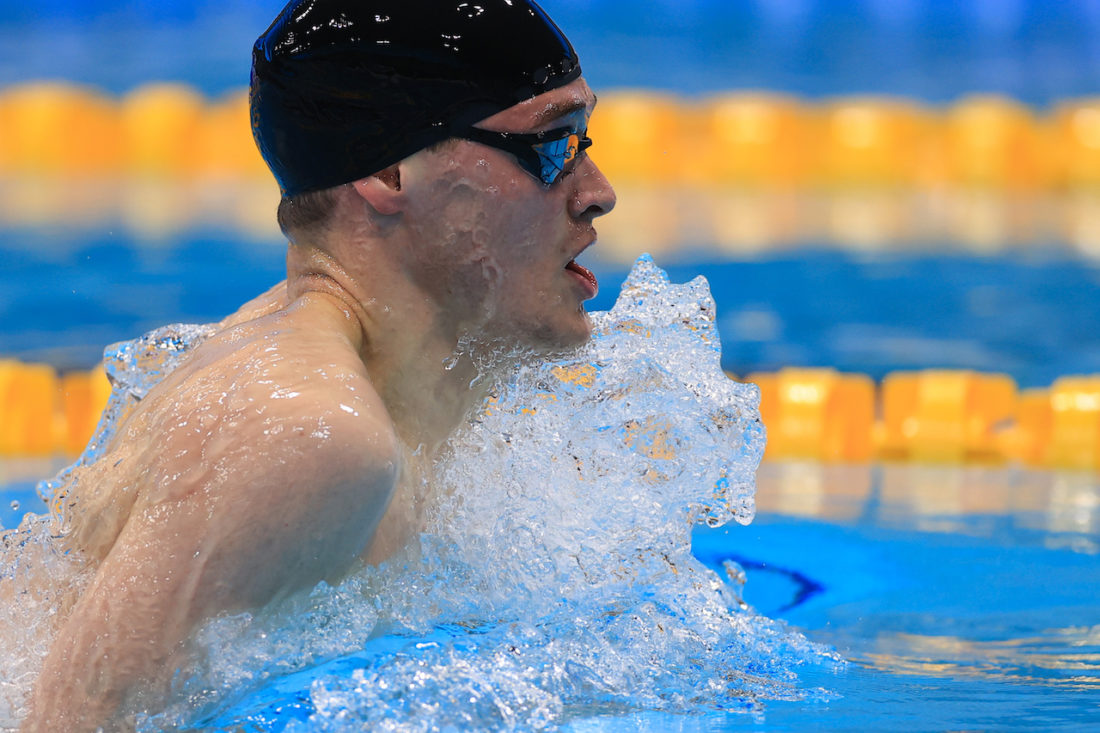 "Our Loughborough National Centre squad is a bit of a dream team at the moment. I'm really happy with my own swims, but then I watch people doing their swims here and think, 'it's a pretty special group of people I get to be around every day!' That pushes me on to maintain my place in that group, because it's fast.

I've done slightly better on the world stage in the 100m the last couple of years, but the 200m is the event where I always struggle to get my hand over it. I'm always focusing on both, sometimes one goes better than the other, but heading towards the Games, it's definitely going to be balancing them both, 50-50, and seeing if I can get a good result in them both come the summer."

James Wilby – image by Georgie Kerr, courtesy of British Swimming
Murdoch, meanwhile, now looks set for a second Olympic Games appearance after a gutsy display.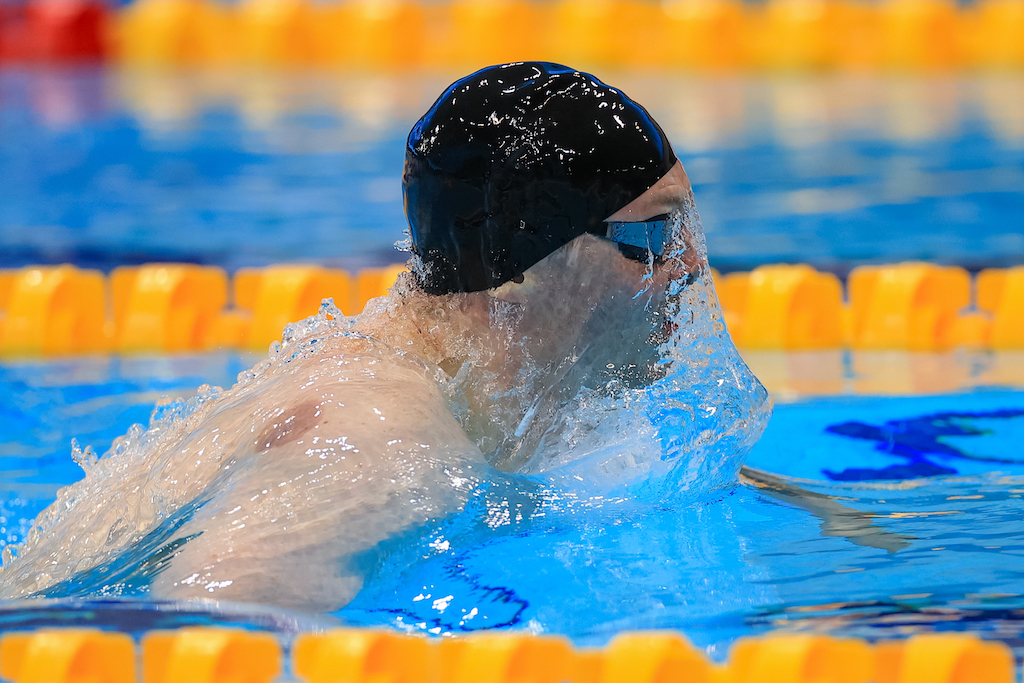 "I'm absolutely delighted with that. It was quite hard this morning, I was almost all in this morning, but that's one of the plans we had coming into this to try to push the heats and have a good adaptation to the evening, a bit of learning and that's what we got. It was good consolidation this evening, about a second faster and I'm absolutely delighted. I think Stirling have had a brilliant championships so far. The backstroke girls have been absolutely outstanding, and Keanna Macinnes was absolutely outstanding as well (in the Women's 200m Butterfly), just outside the consideration by half a second, but what a surprising swim that was, fantastic."

Ross Murdoch – image – Ross Murdoch alongside James Wilby in the battle for Tokyo tickets in London – by Georgie Kerr, courtesy of British Swimming
The flow in the fight:
| | | | | | | | | | | | | |
| --- | --- | --- | --- | --- | --- | --- | --- | --- | --- | --- | --- | --- |
| Place | Name | YoB | Club | | Time | | | Pts | | 50 | 100 | 150 |
| 1. | James Wilby | (93) | Loughboro NC | | 2:08.06 | | | 955 | | 28.68 | 1:00.82 | 1:34.24 |
| 2. | Ross Murdoch | (94) | UniOfStirl | | 2:08.98 | | | 934 | | 29.94 | 1:02.33 | 1:35.24 |
| 3. | Gregory Butler | (00) | Loughboro NC | | 2:13.43 | | | 844 | | 29.61 | 1:03.01 | 1:38.02 |
Aly Thomas – "It Means The World To Me …"
Alys Thomas, who at 27 lifted the Commonwealth 200m butterfly crown in 2018, will head to Tokyo for the Olympics in her 30-something transition year as a result of the Olympic delay caused by the Covid pandemic. On 2:08 flat, clearly age is irrelevant. Mindset and maturity count in swimming these days.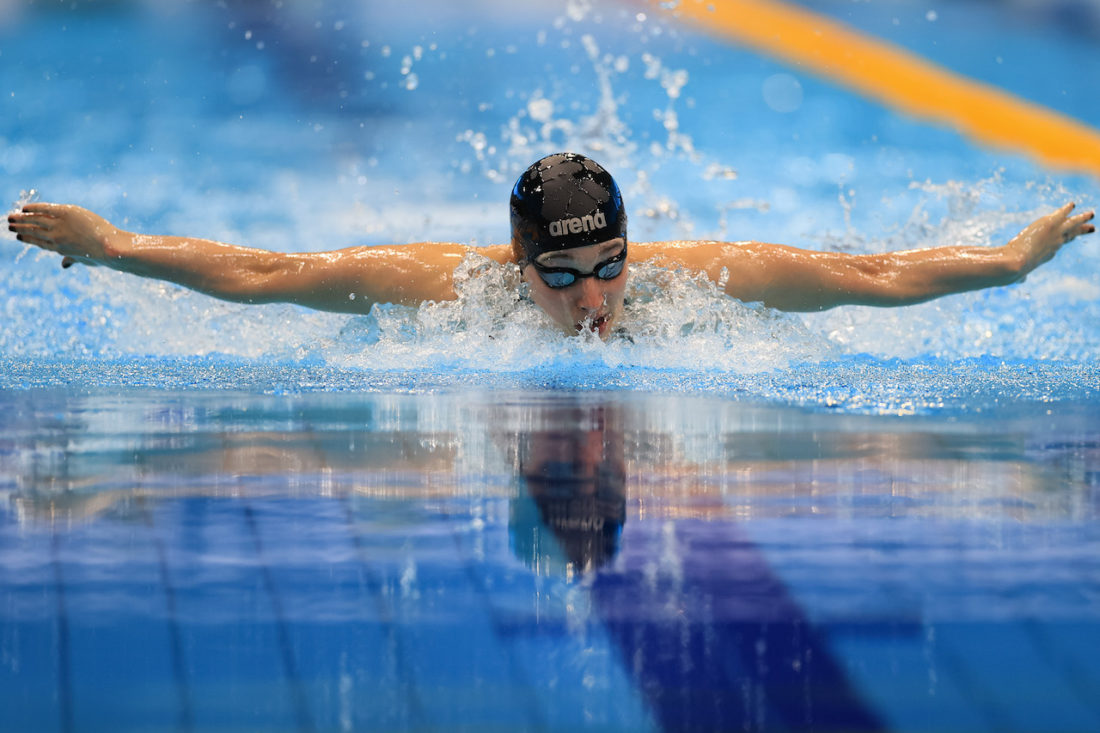 Keanna Macinnes was next home, on 2:08.86, 0.54 sec shy of the cut but able to celebrate a big best time. That left Thomas the only ticket taker as she joined Wales teammate Harriet Jones, winner of the 100m 'fly, on the Great Britain team list. A relieved Thomas was tearful after battle, saying:
"It took a while to look at the board and realise it was me in that lane and it was me that had done it! The last couple of years have just been so up and down and overwhelming at some points, I'm so glad I did it, I believed in myself today and I got the time I wanted. It means the world to me, it means the world to my friends and family at home, I'm sure – I've got a couple of messages ping but I've just been ignoring my phone, so I'm sorry about all those people I've not been replying to. I'll get back to you today!

Alys Thomas – image by by Georgie Kerr, courtesy of British Swimming
She added: "Obviously it's really hard at the moment with lack of access, it's just been really hard to keep motivation – but you've got to keep at it, you've got to keep going. Ultimately, if you want to be at the top and want to be competing at international meets, you've just got to keep at it."
The flow of the fight:
| | | | | | | | | | | | | |
| --- | --- | --- | --- | --- | --- | --- | --- | --- | --- | --- | --- | --- |
| Place | Name | YoB | Club | | Time | | | Pt | | 50 | 100 | 150 |
| 1. | Alys Thomas | (90) | Swansea Uni | | 2:08.09 | | | 860 | | 29.14 | 1:01.51 | 1:34.60 |
| 2. | Keanna Macinnes | (01) | UniOfStirl | | 2:08.86 | | | 844 | | 28.82 | 1:01.90 | 1:35.41 |
| 3. | Laura Stephens | (99) | Plymouth Lea | | 2:09.53 | | | 831 | | 29.30 | 1:02.27 | 1:34.85 |