2020/1 Spillover Stories: No 3 – Sun Yang & The Sequel With WADA … But Will Any Puppet Masters Be Called To Account?
Editorial – Sun Yang is the story that not only keeps giving but refuses to go away but as we await a retrial of his case, the spillover nature of our countdown calls us to shine a light not only on the athlete in the dock and the anti-doping process but those who gave witness but have yet to face consequence: the men who steered Sun, the senior doctor who works in anti-doping, the leader of a federation with a deeply troubling history, a twice-banned doctor.
Our Top 5 spillover stories – the Countdown so far:
All of those men in the driving seat were right there with Sun Yang on the fateful evening ion question, calling the shots and shouting down, even issuing threats to, a young, female, Chinese doping control officer on a fateful night in September 2018. Sun's mother was there, too, calling for a hammer; a security guard was there, using it as Sun shone his smart-phone torch on a scene you could not imagine unfolding almost anywhere else in the world. The guard was 'following orders', so to speak; the mother is a mother; but the others are all subject to the WADA Code as much as the swimmer is.
Long story short: Sun Yang landed an eight-year ban by the World Anti-Doping Agency (WADA) via a Court of Arbitration for Sport (CAS) hearing and process; Sun Yang appealed; one ground stuck.
So, what next?
A good question to ask on a day when the Swiss Federal Tribunal releases its full reasoning for sending the Sun Yang case back for retrial not on grounds of the strength of WADA argument but questions of Swiss Civil law and fair process.
Sun Yang Case – A Whirlwind Reminder
Sun Yang was down by a banned substance in 2014; back in trouble in 2018 because of a row with testers, he was let off with a warning a FINA Doping Panel and FINA leaders sought to hide; this journalist revealed the details of the case in The Sunday Times in January 2019; WADA was taken aback by the details of the case and appealed to CAS for a penalty to be imposed; the hearing did not get off the ground in time to prevent Sun Yang becoming the dubious star around which controversy swirled throughout the FINA World Championships in Gwangju, South Korea; the CAS hearing was held in Montreux in November 2019; in February 2020, a panel of CAS judges issued its verdict – all three judges sided with WADA and Sun was slapped with an eight-year ban for manipulation.
Technically, Sun Yang would have been able to train privately as much as he liked, throughout. He should not have been working with any coach or other swimmer, or doctor or official associated with the Chinese Swimming Association, under FINA rules/ the WADA Code.
How to check? How to verify? Has FINA made attempts to do so? The questions run.
Now, technically, Sun Yang could compete and qualify for racing at the delayed Tokyo 2020 Olympics. That will depend on whether he has been able to train (rules say he should not have worked with any teammates, coaches, doctors and others associated in any way with Chinese teams and the Chinese Swimming Association) between the end of February and the eve of Christmas 2020, and these two things:
How fast CAS can get the new process up and running – and given that all evidence, from both sides, has already been prepared, there is no excuse for delay
Confirmation of that part of the 2020 verdict that matters: a suspension, the length of which matters not unless as farcical as the three-month retrospective suspension Sun never served back in 2014.
Eight years is what WADA argued for – and got.
I heard no argument first time round that would make me believe the verdict should be different this time round, while some commentary out there among those who believe Sun Yang should go free is based on facts that can and have been proven to be false, including statements such as 'Sun was never asked if he regretted what he did on…'. Not in the precise same words but I heard that question put to him – and to the men who steered his argument and persuaded him and encouraged him to poor behaviour that left him shy of the right side of the WADA Code.
Which brings me to the point of entry 3 on our list: whatever happens to Sun Yang at retrial, the burning question in the background will remain:
What should happen to the men (forget his mum; she's his mum) surrounding Sun Yang, those who encouraged him to behave as he did in September 2018, those at FINA who have forfeited neutrality in support of one controversial swimmer in the face of many other leading swimmers and coaches and others calling for a different approach for a long time now?
Here's what the WADA/CAS process concluded, as noted in the CAS report of February 2020 (a report that did not reply on one independent judge but three):
What the CAS Panel concluded about Sun's Entourage
The senior figures involved in the argument with the IDTM testing team: Dr Ba Zhen, the Athlete's medical doctor; Dr Han Zhaoqi, Chief Doctor of the School where Dr Ba Zhen works, and Chief Doctor in Affiliated Sports Hospital of Zhejiang College of Sport; Cheng Hao, Team Leader of the Chinese national swimming team.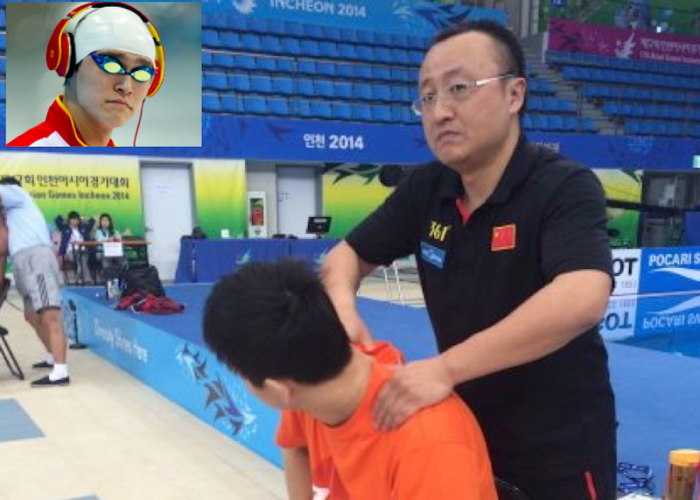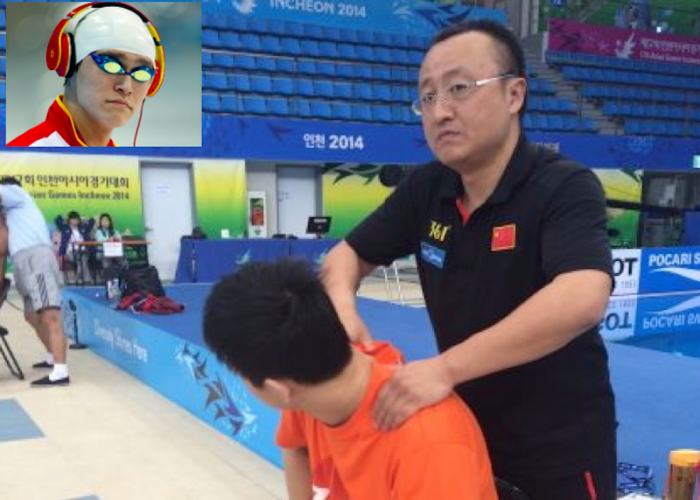 In 2014, Dr Ba Zhen was handed a suspension for prescribing a banned substance to Sun Yang. In 2015 he was handed a concurrent second one-year ban for having worked with Sun Yang at the Asian Games at a time when he, the doctor, should have been serving a suspension. At the time, FINA, in reply to a question from this author, said that Dr Ba was not a member of the China team at the Asian Games in Incheon – and so it took no action. When the matter was reported to WADA, a second penalty was imposed under the WADA Code. In the main image in the picture to the right, which Chinese media ran without realising what it was that the image provide, Ba Zhen is wearing an official China Team t-shirt with a 361 official China team sponsor logo on it. It is highly unlikely that he could have travelled and then been accredited to work on deck at the Asian Games without the required official Chinese consents and authorisations.
Here are some key comments from the CAS judges on the three senior figures arguing that three anti-doping testing officers did not have required authorisations (CAS has now ruled that they did):
Dr Ba Zhen, who has previously been served two WADA suspensions, was "evasive" at the hearing in Montreux:
" … the Panel also notes that Dr Ba Zhen testified that he attended many anti-doping control tests of the Athlete, but was unable to recall whether any such tests were performed by IDTM. However, it remained uncontested that 60 out of the 180 anti-doping controls performed on the Athlete between 2012 and 2019 were performed by IDTM. The Panel found Dr Ba Zhen to be evasive in his testimony. That testimony fell well short of corroborating the Athlete's statement that the documents shown by IDTM's Sample Collection Personnel on 4 September 2018 were materially different from material presented to him during previous IDTM anti-doping controls."
Dr Han Zhaoqi
Dr Han Zhaoqi indicated in his written statement that he attended annual training courses provided by CHINADA, which addressed the "legal requirements for doping control testing, including the matters related to accreditation". Dr Han Zhaoqi may have based his advice as to the documentation required by IDTM's Sample Collection Personnel on the training received from CHINADA, while this information differed from the mandatory (minimum) requirements set out in the ISTI.
Indeed, the documentation referred to by Dr Han Zhaoqi in his written statement that he considered necessary to be shown finds no basis in the ISTI:
"I would like to add that for DCO, it is required to have 1) accreditation and 2) authorization to conduct the test. And for BCO, in order to validly collect blood, you also need 1) accreditation; and 2) authorization for this specific test. For the urine Chaperone, we need 1) proper training and 2) authorization. Everybody must have a resident ID card."
234. It is to be noted that during the proceedings before the FINA Doping Panel, Dr Han Zhaoqi indicated in his written statement that everybody must have "an ID card". In the proceedings before the CAS, however, he changed his statement to a "resident ID card", i.e. excluding the possibility that reference may have been made to IDTM-issued ID cards. The difference is not considered material by the Panel, as the ISTI does not require any form of ID card being presented by the DCA and BCA, as addressed in more detail below."
Cheng Hao:
"Cheng Hao referred to CHINADA's practice in his written statement and that it was CHINADA's practice "to show DCO certificate of all officers involved and authorization letter […]" and that "[i]t is important for the officers to prove their connection to IDTM and that they are employed by IDTM". Again, such requirements do not find any basis in the ISTI, but appear to be a protocol implemented by CHINADA that is not binding upon IDTM."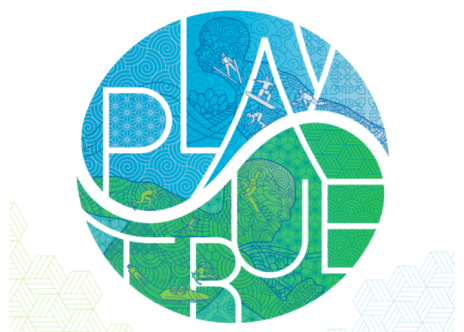 What the Sun Yang report does not do
Sun's entourage is not the subject of the case and so it is Sun Yang who is almost entirely in focus and the only character on Team Sun Yang actually being judged for the purpose of penalty or no penalty.
WADA and FINA, however, in light of the damning evidence against Sun's entourage, particularly Dr Ba Zhen, given his two previous WADA-Code violations, have the power to penalise others in relation to the events of September 2018.
It remains to be seen if they will, if Chinese authorities, not only wider authorities, will hold inquiry into the men whose names are not nearly as well or widely known as that of Sun Yang, though they are key to his story and experience ion sport.
Among other questions left hanging so far: how could the FINA Doping Panel of three lawyers get it so wrong when it came to deciding that not penalty was due in the case of Sun Yang in the context of the information before it and the career of a controversial athlete with a doping positive already against his name?
If the athlete is reconfirmed as having committed an anti-doping offence, the actions of the senior officials and doctors around him should carry consequence, too. Indeed, the WADA Code and the rules of swimming allow for action to be taken against them.
Precedence was set in the 1990s, when several senior coaches were banned alongside their swimmers. Among the coaches were national-team staff and coaches working with the bulk of the Chinese team that headed to all major championships, Olympic Games and World titles, 1993 to 1998. The Sun Yang case may be far removed from those days but some parallels remain, including the presence of a high level of control of athletes and the mantra and claim of racism directed at any who questioned the success unfolding.
In an atmosphere in which critics of process and judgement point to the woeful use of such words as 'yellow', regardless of the reason for emotional overspill, stretching to frustration and anger over such issues as animal cruelty, make their points with scant or no attention to the misdemeanours WADA and vast waves of swimmers across the world calling on authorities to clean their sport up, it is important to note that down all the years those in China associated with or victimised by doping practices, charges of racism against journalists, athletes, coaches and others asking wholly legitimate questions have amounted to a masquerade and tactic to divert the eye away from the abuse inherent when waves of teenage, largely under-age and female athletes, find themselves in the hands of rogues operating a systematic approach to obtaining results in the pool.
Sun Yang, of course, has a right to raise what he did at appeal. One of his points stood fast and sends the case back for retrial. That raises serious questions for CAS, about setting standards and running checks and balances and ensuring that no stone is left unturned to ensure fairness and the upholding of the right to a fair hearing for all. Sun Yang has a right to that. And his rivals have a right to clean sport, too – and a right to argue and protest and raise red flags should they feel that is the only way they will be heard.
Sun Yang – One Thread In A Long Story
The story of Sun Yang stands alone, the culpability of others is not his nor should he be judged on the basis of what came before him. It can also be said that, in the round, no Chinese swimmer at elite level can be viewed uncoupled from China and the backdrop of Chinese swimming's history, what we know, what lessons were learned, what role FINA played down the years and much else.
With such history in mind and a thought for what may play out in the years ahead, below, for those who wish to recall or those who come to this for the first time, is an extract from my archive, from 23 years ago on the eve of the World Championships in Perth, Western Australia, a quick trawl of 1990s history and a few other extracts in the mix.
NB: when this was penned and published in The Sunday Times and elsewhere in a number of versions, Michelle Smith, of Ireland and absent from the World Championships, was about to answer a call from anti-doping testers Al and Kay Guy at the door of her home. The visit would lead to Smith being barred from the sport on grounds of manipulation. There is a reference to world-renowned criminal pathologist Prof. Malcolm Cameron below: he was also a member of FINA's medical commission/anti-doping experts group. When, later in 1998, this author broke the story that Smith was facing anti-doping inquiry, Prof. Cameron received a warning from FINA director Cornel Marculescu, who had assumed that the expert had informed the journalist. Marculescu was wrong but his decision to issue a warning to one of the key generals in the fight for clean sport spoke volumes about what we knew then and what we suspected would come to pass down the years (and did).
Smith took her appeal against a FINA suspension on grounds of manipulation to appeal at the newly formed Court of Arbitration for Sport (CAS). She opted to have the hearing held in public, lost the argument and left the sport. It would be 21 years before we witnessed another swimmer wanting to have their appeal at CAS in a doping case heard in public – and that case was also based on manipulation: Sun Yang.
The Poisoned Pool
Craig Lord – January 4, 1998
The Arrivals lounge at Perth airport, Western Australia, has been a confusing place for travellers this past fortnight. There's the red channel for those about to confess and the green channel for the free of spirit and any other performance-enhancing substances. Then there's a third, temporary channel, through which all who pass must urinate in a bottle.
This is no effort to save Australia from chicken flu but rather to spring a drug-test surprise on more than 500 of the best swimmers in the world as they arrive for the world championships, which start on Wednesday and last 12 days. "It's our job to surprise them, the only way to catch the cheats," said Cornel Marculescu, director of the Federation Internationale de Natation Amateur (Fina), the international governing body, which spent US$375,000 on unannounced testing last year. The Perth exercise cost $125,000 and is likely to go down as the biggest single out-of-competition catch-the-cheats raid in sporting history. There's also talk of introducing drug passports.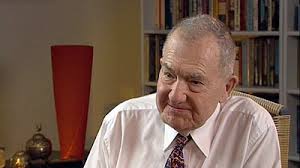 Not everyone is impressed by the latest swoop. "It's an expensive stunt," said Forbes Carlile, possibly the liveliest octogenarian on the planet. He was mentor to the Munich triple Olympic champion Shane Gould and generations of other Australian champions, and has long made the war on drugs in sport a personal crusade.
History provides the peg on which his scepticism hangs heavy, a record of more than 50 positive drug tests in the past 20 years, only one linked to East Germany, but 23 in the past seven years by swimmers from one nation: China. All bar one of the resulting 23 suspensions were for offences involving anabolic steroids, mostly dihydrotestosterone (DHT) and metandienone, the substance also detected in three Russians last October.
Behind the chilling numbers sits a sporting scandal that will dominate debate in Perth and threatens schism in waters made all the murkier by accusations of drug-taking that followed the annihilation of the last two remaining individual East German world records by two Chinese women in October.
The efforts of Wu Yanyan and Chen Yan, respectively 2min 09.72sec and 4min 34.79sec in the 200m and 400m medley, prompted a fierce war of words, in which Don Talbot, head coach to Australia, said: "You have to be naive to think they're clean. This is a planned policy, it is East Germany all over again." Susan O'Neill, Australia's Olympic champion over 200m butterfly, and normally one of the most mild-mannered among elite swimmers, weighed in: "They are obviously cheating – they are machines, they are not even people." Carlile describes the times as "off the chart – they are 25 years into the future".
Support for that view came from the United States, whose coaches are proposing to challenge the authority of Fina. The new grouping, which will seek the backing of the World Swimming Coaches Association at a vote later this week, has a working title of Association for the Betterment of Swimming (ABS). A catchier description comes from Carlisle:
"This will be the conscience of swimming. We will work alongside Fina to press the executive for accountability; how many tests are carried out, on whom, when and where. We've had enough."
And here is why. In autumn 1993, at the All China Games, a shoal of muscular women swimmers known as the Golden Flowers swamped the world rankings like no other nation had done before. In one event alone, the 50m freestyle, there were 10 Chinese in the top 15 in the world, including the fastest six. From having 33 women in the top 25 across all 13 individual Olympic events in 1992, China now had 96 in that class, more than East Germany or America ever managed.
Later that year, at the inaugural world short-course championships (25m pool), in Palma de Majorca, Le Jingyi and Dai Guohong, the latter never seen beyond the Great Wall before (and within a year never to be heard of since), set seven world short-course records in four days and played a part in the three relay teams that also broke world records. Acrimonious debate followed, after which Fina resolved to set up an out-of-competition testing programme.
The Chinese team – whose outsized women drew gasps from onlookers and sent rivals into the sort of depression caused by the knowledge that you just can't win – arrived for the world long-course championships in Rome in 1994 shades of East Germany hung over the seven hills. The new empresses of the pool raced to 12 out of a possible 16 world titles, setting five world records along the way. Zhou Ming, listed as head coach (also described as deputy head coach in Chinese reports), faced with persistent questions about drugs, accused the western media of racism. It was hard work, more than 140km a week in the water, that had done the trick.
Within a month, testers swooped on the Chinese as they arrived at Hiroshima airport for the Asian Games, catching seven cheats, all for anabolic steroids; among them were two world champions, Lu Bin and Yang Aihua, and Hu Bin, the only Chinese man then to have ever won an international medal, a silver in Palma behind Britain's Mark Foster.
The operation had been organised by Fina's medical experts, at the helm Britain's Professor Malcolm Cameron, the world-renowned pathologist who has worked on many high-profile cases, including the autopsy of role in the case of the dingo said to have taken and killed a baby girl here in Australia, the turbulent story of wrongful conviction told in the film A Cry In The Dark, starring Meryl Streep.
Cameron was among a Fina delegation that toured China to see, just in case it wasn't already perfectly obvious, what might be the problem. China handed over the results of 11 other positive tests as evidence that it was trying to tackle a "black-market problem". Few, if any, among the world's leading coaches and swimmers, believed that line. They still don't. And China seemed rather shame-faced; forced by rival nations to stay away from the Pan-Pacific championships in 1995, there were just 16 Chinese women, instead of 96, among the world top 25 ranked in all events that year, and the Atlanta Olympic Games in 1996 were an unrecognisably tame affair beyond the gold medal for Le Jingyi in the 100m freestyle.
The Chinese, however, seem to have decided they have served their time and, lured by the state cash and perks granted every four years from the results of the All-China Games, the Golden Flowers bloomed afresh in Shanghai. They exceeded the excesses of 1993, with 99 Chinese women soaring among the world's top 25 across the 13 events – they have the top two in seven events.
Best efforts came from Chen Yan, 16, and Wu Yanyan, who turns 20 on Tuesday. Their storming performances came in the three events won at the Olympic Games by Ireland's Michelle Smith. Chen clocked 4min 34.79sec to shave 1.31sec off the 1982 standard of East German Petra Schneider, a performance widely held to have been drug-induced.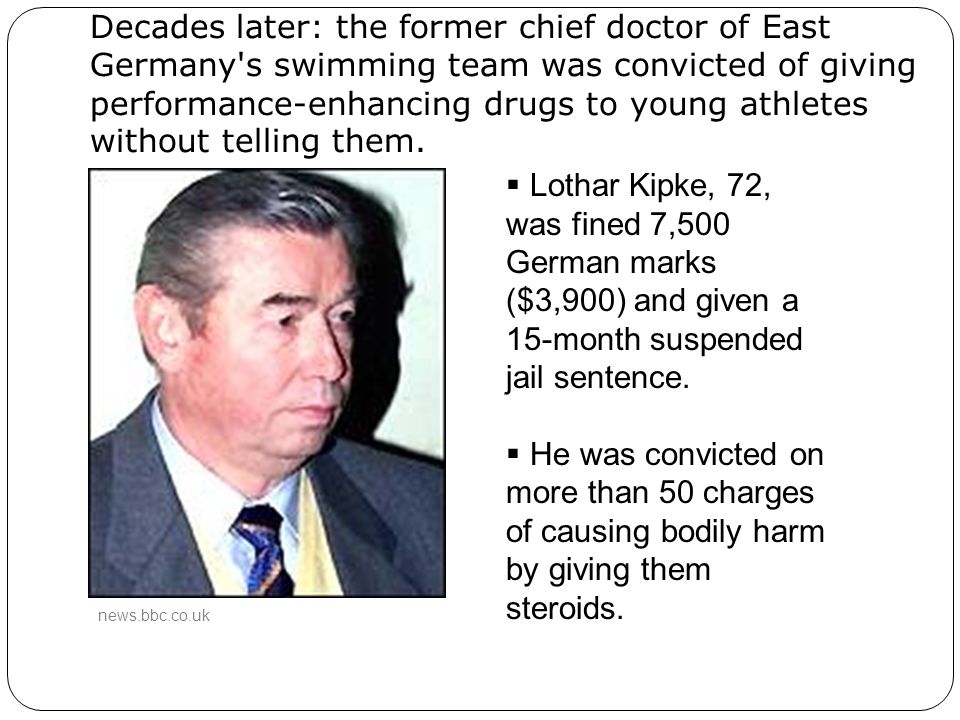 Confirmation of a library of documents confirming that the East German swimming team was fuelled by Oral Turinabol and other substances between 1973 and 1989 will form part of "Exhibit A" when DDR coaches, doctors and officials such as former FINA Medical Commission man Dr. Lothar Kipke, are called to court for the German doping trials set to get underway this year.
Back to China – and Wu's 200m medley was even more breathtaking than Chen's 400m effort. The clock stopped at 2min 09.72sec; almost four seconds faster than any other woman had managed in 1996, Olympic year.
Wu's best time over 200m stayed at 2min 16sec for three years before she clocked 2min 12.87sec last year, although she failed to make the final in Atlanta.
Chen's 400m medley time is five seconds better than Smith's Olympic time, and 19 seconds faster than Chen swam in Atlanta. In Shanghai, Chen also clocked 4min 05.00sec in the 400m freestyle, the second fastest of all time, fastest since 1988 and well inside Smith's effort. Her new time would have beaten Smith's Olympic time by four seconds.
Apart from her speed through the water, the most extraordinary thing about Wu is the change in her physique since 1995. After she had climbed to the top of Eze, a 12th-century hilltop village overlooking Monte Carlo in 1995, Wu struggled for breath and was physically ill. A diplomat might have described her as scrawny. A Chinese coach said she had a bad liver.
Those days are long gone, as evidenced by a blossoming of bulk muscle. Perhaps she's eating better. The Chinese have cited new delicacies from their recipes of success now that the fuss over Ma's turtle soup has died down. Steel yourself – donkey-hide gelatine and snail paste. Perhaps that explains why Le Jingyi, world-record holder and Olympic champion over 100m freestyle, says she is too tired to defend her title in Perth, and will concentrate instead on relays. Said Le on arrival in Australia: "I like pizza and hamburgers."
On paper, China will make Perth a repeat of Rome, their combined times in Shanghai suggesting all three relay world records, including the 4 x 200m freestyle, the last held by East Germany, will fall.
The mantle would then truly have passed from East Germany to China, which learned its "training methods" from visiting East German coaches in the late 1980s, at a time when Germany is putting former East German coaches in the dock on the basis of overwhelming Stasi file evidence that they doped their charges.
Some Germans remain. In Perth, Dagmar Hase, named in Stasi files as having returned an illegal testosterone-epitestosterone level in 1989, will compete as a reigning European champion and refuses to acknowledge that there was ever a problem in East Germany.
Others will not be silent, however, as Fina delegates gather in Perth this week to decide whether swimming should go the way of athletics; reducing suspensions from four years to two for anabolic steroids because of "national legal problems". After the Shanghai surprises, such moves will be resisted.
"It's time to move forward, not take two steps backwards," said an exasperated Forbes Carlisle. He and most of the leading swimming nations want blood testing introduced in swimming. Without it, testers cannot hope to detect certain illegal agents, such as human growth hormone. Fina will vote on blood testing this week, but some nations will object on religious grounds, while others say the required 25ml of blood would be too much to ask.
Hence the need for ABS, or the new swimming conscience. There are fewer than 20 leading swimming nations, with a dozen others on the fringes of excellence, but there are 167 Fina nations, and each one has a vote equal in weight to the next.
Those with a conscience want to go further than Fina. US officials have called on two permanent foreign monitoring officials to be based with the Chinese team year-round, with US Swimming, the federation, prepared to pick up the bill. The United States also intends to send coaches and swimmers on educational tours of smaller countries, which, says Phil Whitten, editor of Swimming World magazine, have been "in the favour of Fina and willing to vote whichever way they are told". He said: "It's time we took this war on head-first. What we are witnessing from China is mass abuse of young children."
In Australia, Carlile, a member of the World Swimming Coaches Anti-Doping committee, said:
"We want blood not only taken but frozen. We're in the deterrence game; if there's no test for something now then there might be in five years' time and the cheats should know that time will catch them out."
Lawyers the world over will be rubbing their hands in glee, something Fina is keen to point out, since it has been forced to reduce sentences and reverse decisions in the past, faced with legal threats.
Yet if Fina fails to respond, the mood in a poisoned pool will become more sour and may eventually lead to a whole new body governing the sport. For now, one action has been proposed that would shake Fina's nerve in Perth. The 15,000 spectators in the Challenge Stadium are being urged to turn their backs on medal ceremonies involving the Chinese.
"They threatened us with expulsion in Atlanta if our swimmers stepped down from the blocks in protest at the Chinese," said one coach. "As it turned out, the Chinese were off the boil. They may not be in Perth but Fina aren't going to chuck the crowd out, are they?"
Before & After Perth 1998
In 1992, this author reported that the number of Chinese swimmers in the World Top 25 Rankings kept by Nick Thierry soared from 27 to 98, 94 of whom were female. Suspicions of GDR Mark II took hold, the 'progress' among girls who were showing signs of androgenisation.
In 1993, Chinese girls won 10 of the 16 titles up for grabs at the inaugural World short-course Championships in Palma de Majorca, and China topped the medals table with 10 gold to the scene claimed by American swimmers of both genders. All three women's relays went to China in world-record times, while Le Jingyi (2 – 50, 100m free); He Cihong (200m back) and Dai Guohong (3 – 100, 200m breast, 400IM) set six global standards to take China's tally among women to 9 World records. I interview Le and Dai, flanked by two coaches and two team (Communist Party) officials: the girls have heavy acne, heavy muscle development and have not yet been coached in how to answer questions about the rap[id nature of their progress – those questions are not translated and answers are provided by the officials. At the same event, Angel Martino (USA), previously suspended for for a banned-substance positive, is among those who takes gold ahead of the Chinese. The Cold War in the water appears to be back on, some of the arguments familiar to any who followed or lived through the GDR era.
In 1994, fears of a China wipeout are all but confirmed when its women's swim team take win 12 gold medals, including five world long-course records. at the Rome 1994 World Championships. The media questions come thick and fast; the coverage of swimming far and wide is overtaken by headlines about acne, photos of the size of backs and muscles and we hear the first suggestion from Chinese under pressure to explain the 'progress' that western nations are 'jealous' and 'racist'. The questions go unanswered.
Reports suggest that between 1990 and 1998, 28 Chinese swimmers test positive for doping. This figure will later have to be revised upwards after inquiry prompts confessions and the revelations of previously unknown positives, including several names of teenage athletes never seen or heard of outside China.
Prof James Cameron, of the FINA Medical Commission, orders testers to be ready to greet Chinese athletes off a plane from China to Hiroshima for the Asian Games a couple of weeks after Rome 1994 concludes. Seven swimmers are among the many positives. Chinese leaders initially blame 'racist sports officials' in Japan for manufacturing positive test results. After the scandal of Hiroshima, IOC Medical Commission chairman Alexandre de Mérode caused outrage when he appeared to discount the possibility of officially sanctioned Chinese doping stating that the results were "accidents that could happen anywhere".
In 1995, Le Jingyi and female teammates take three golds at the 1995 World s/c titles, China's overall power seemingly on the wane, though Wang Yiwu becomes the first Chinese man to claim a world swimming title, with victory in the 200m breaststroke as the only Chinese man to make the podium. This, say Chinese officials, shows how China's strength is not just female. In fact, it showed nothing of the kind. The questions continued to flow and the 1996 Olympic Games in Atlanta would not produce the GDR-style result predicted after Rome 1994.
A report by a joint FINA and Olympic Council of Asia delegation to Beijing in 1995 concluded that "there is no evidence that the Chinese are systematically doping athletes". Australian, American, Canadian and Japanese sports officials responded to the denials of the obvious by voting against Chinese participation at the 1995 Pan Pacific Swimming Championships. The Chinese People's Daily publishes an anti-doping policy and proclaims an official prohibition on performance-enhancing substances.
After two stunning World records from Chinese female swimmers at the October 1997 All-China Games, we arrive at the Perth 1998 World Championships described in my archive entry above. Here's what happened on the way to the blocks (extracts from contemporary reports filed that day):
CHINESE swimmers heading for the world championships were greeted by armed guards and a media scrum when they arrived at Perth airport last night after customs officials found a flask believed to contain human growth hormone in their luggage during a routine stopover in Sydney.
The 29 swimmers and officials were not in chains, like the earliest visitors to these shores, but they were certainly in the dock, after a discovery that has cast an unwelcome cloud over a sport that is thoroughly tainted by the scourge of drug cheats.
The 26 vials in the flask, 13 of them labelled Somatotropin, a human growth hormone (HGH), and 13 of saline solution, were sent to a government laboratory for testing. They were discovered in a bag belonging to Yuan Yuan, who in 1994, the year seven Chinese swimmers tested positive for anabolic steroids, won silver and bronze medals in the two breaststroke races at the world championships.
Yuan, 21, told customs that she was carrying the flask to give to a Chinese doctor who lives in Australia, while her coach at the Guangzhou army base, Zhou Zhewen, told police that he had packed Yuan's case for her. While Yuan is the lowest-ranked woman in the China team in Perth, rated twelfth in the world over 200 metres, three of Zhou's other charges are ranked among the top two in the world in their events.
At Perth airport, Chinese coaches told Chinese television that the vials contained no more than "turtle jelly", but customs officials at Sydney stated: "The suspected growth hormones have yet to be analysed…customs is continuing inquiries into the incident to determine what action to take."
When the news reached Perth, the Beattie Park Hotel, where those Chinese who had arrived in Perth several days earlier were staying, was bombarded by media. Armed police officers with bulletproof vests were called and it was later confirmed that a warrant had been issued for the police to search the rooms of the Chinese team members. At Perth airport hours later, the Chinese were jostled by cameramen who tumbled over chairs and cracked the heads of passers-by. A six-car police escort surrounded the China team bus that Yuan was taken to separately by police officers who struggled to fight off the pressing media.
The news from Sydney came barely an hour after Mustapha Larfaoui, president of Fina, the international governing body of swimming, had declared that 820 out-of-competition tests had been carried out in 1997 and had urged the media to "please stop the doping talk and report on the stars of these championships."
Condemnation of the Chinese was widespread. Don Talbot, head of Australian swimming, claimed the Chinese had been "caught with their hand in the cookie jar". A United States team spokesman said it was "a very happy moment", while Mark Spitz, winner of a record seven Olympic gold medals in 1972, said that he believed the drugs had been brought in to test whether they could "get away with it" before Sydney 2000.
Fina faced further trauma yesterday when the German swimming federation won an injunction in the Supreme Court forcing Fina to hand back the accreditation to the world championships of its team manager, Winfried Leopold. Leopold has admitted his part in the doping of swimmers during his days as a coach in East Germany.
End of extract
The HgH had been enough to supply the entire China team for the duration of the Perth World Championships yet, initially, only teenager Yuan Yuan was sanctioned, speculation swirling that was related to the nomination of Juan Antonio Samaranch by China for the Nobel Peace Prize in 1993.
After the racing had started in Perth, one finals session ended in a second day of work through the night after FINA placed a statement in a pigeon hole in the press room without making any announcement. Eagle-eyed journalists spotted it and descended en masse on the FINA dinner to demand answers from FINA leaders: the banned diuretic masking agent triamterine had shown up in the urine of four swimmers, Wang Luna, Yi Zhang, Huijue Cai and Wei Wang in the days before racing had begun. The swimmers were suspended from competition for two years, with three coaches associated with the swimmers, Zhi Cheng, Hiuqin Xu and Zhi Cheng each suspended for three months, the record shows, though at the time Chinese officials told the media in a press conference that the coaches would be banned for twice the length of punishment received by the athletes.
Here is an extract from my commentary in The Times and other notes in conclusion pieces from Perth 1998 as the first post-GDR-era decade moved towards the new millennium in which China would become one of the – at times the – biggest funders and backers of FINA Aquatic events.
Ten days that put swimming to shame
Craig Lord on world championship revelations and recriminations
As torrential rain spilt from a mournful sky here in Perth yesterday, it seemed that a cathartic process might be taking place in a sport seemingly drowning in a sea of drugs. After ten days in which the world swimming championships suffered revelation after revelation about doping, it was a moment for reflection.
When news came through from Sydney a week last Thursday that customs officers had confiscated a flask containing 26 vials of human growth hormone (HGH), found in the luggage of a Chinese swimmer, the first response of Fina, the international governing body, was symptomatic of the sport's failure to act since a shoal of bulky, deep-voiced East German women scooped nine world titles in 1973.
Prodding me in the chest with two fingers, Cornel Marculescu, a Fina director who would wish the world to "talk about our stars, not about drugs, drugs, drugs", said: "This is a balloon, I don't believe it. Show me the paper, where is the proof?" He shrugged in resignation as the customs confirmation arrived. It was early evening, but the night would be long.
The Chinese, including Yuan Yuan, a former world championship medal-winner, and her coach, Zhou Zhewen, had been allowed to board a plane from Sydney to Perth and a troop of some 150 journalists, photographers and cameramen gathered for the 4am greeting. What followed were some of the saddest scenes witnessed in this sport. A tearful little girl was knocked to the floor in the crush as the media herd advanced on the Chinese. Yuan was hounded so heavily that six of the 40 or more armed police officers had to form a cordon to escort her to a waiting bus. Probably already the victim of abuse through drugs administered to her by coaches and doctors back home, she must have been terrified. She certainly looked it and, cheat or not, she deserved better.
Back at the Challenge Stadium pool by 8.30am, the media awaited a Fina decision. Yuan would be suspended pending the decision of the Doping Panel. The job would be delayed, Fina said, because of bureaucracy, it being almost the weekend.
Day one of racing dawned and China ended it top of the table, with gold, silver and bronze medals. Day two brought a mysterious go-slow. Not one Chinese made a final. The puzzle was soon resolved. After the finals session that night, Fina issued a press release: Yuan would be suspended for four years and Zhou for 15 years. And, by the way, four Chinese had tested positive for a diuretic used to mask performance-enhancing substances.
Where was Fina? Some delegates were sipping white wine and eating nuts at Fina's poolside VIP suite, while others had already left for a gala dinner for more than 400 guests at the plush Hyatt Hotel, overlooking the Swan River. Nero and his fiddle were surely somewhere in the band.
… The world called for China to be sent home. There was no provision in the rulebook, Fina said. It could only suspend a country if four of its swimmers tested positive for anabolic steroids, specifically, in a 12-month period. There was no provision for calling an extraordinary meeting to change the situation, Gunnar Werner, honorary secretary of Fina, added. Some suggested that an extra line be added to the medal table: drug count.
Criticism of China and Fina has been harsh and mostly justified. Will the International Olympic Committee and Fina now take seriously evidence that will be presented by scientists next week?. Novo Nordisk, the Danish company that supplied the HGH found in Yuan's bag – though for hospitals, not sport – says it has found a way of ensuring that the presence of artificial HgH shows up in anti-doping tests. Of course, it is the Olympic movement that would have to pay for that … time will tell.
What we can say is that such checks and balances would require swimmers to give blood…
End of archive.
And blood they did give. Fast forward to events in 2018-2021 and we find a Chinese swimmer at the heart of the biggest single doping controversy in the sport of the past decade, the case revolving around a blood sample, a chain of command and what WADA must now prove all over again: manipulation.
Where the case goes in 2021, the sport will go too. That's the degree of significance to swimming and its future of the story of Sun Yang vs WADA, alongside FINA, the WADA Code signatory, promoter and policeman that has long struggled to reconcile those conflicted roles.